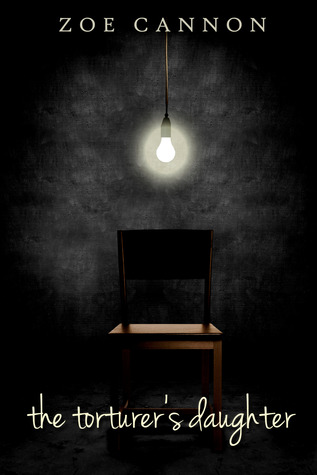 When her best friend Heather calls in the middle of the night, Becca Dalcourt assumes it's the usual drama. Wrong. Heather's parents have been arrested as dissidents - and Becca's mother, the dystopian regime's most infamous torturer, has already executed them for their crimes against the state.To stop Heather from getting herself killed trying to prove her parents' innoceWhen her best friend Heather calls in the middle of the night, Becca Dalcourt assumes it's the usual drama. Wrong. Heather's parents have been arrested as dissidents - and Becca's mother, the dystopian regime's most infamous torturer, has already executed them for their crimes against the state.To stop Heather from getting herself killed trying to prove her parents' innocence, Becca hunts for proof of their guilt. She doesn't expect to find evidence that leaves her questioning everything she thought she knew about the dissidents... and about her mother.When she risks her life to save a dissident, she learns her mother isn't the only one with secrets - and the plot she uncovers will threaten the lives of the people she loves most. For Becca, it's no longer just a choice between risking execution and ignoring the regime's crimes; she has to decide whose life to save and whose to sacrifice.It's easy to be a hero when you can save the world, but what about when all you can do is choose how you live in it? THE TORTURER'S DAUGHTER is a story about ordinary life amidst the realities of living under an oppressive regime... and the extraordinary courage it takes to do what's right in a world gone wrong....
| | | |
| --- | --- | --- |
| Title | : | the torturer s daughter |
| Author | : | |
| Rating | : | |
| ISBN | : | 16104430 |
| Format Type | : | Kindle Edition |
| Number of Pages | : | 274 Pages |
| Status | : | Available For Download |
| Last checked | : | 21 Minutes ago! |
---
the torturer s daughter Reviews
For some reason, I place The Torturer's Daughter in the same category as two other dystopian books: What's Left of Me and Awaken. My level of enjoyment wasn't even almost consistent across the three: I gave Awaken 2 stars, What's Left of Me 3 stars and this book 4. It wasn't that the MC's were the same: Maddie was a spineless brat, Eva was an incredibly moral fighter, and Becca was an actually realistic teenager. The dystopian worlds had nothing in common: in Awaken, every aspect of life has been digitalized, which lends the government complete control over absolutely everything; in What's Left of Me, people are born with two souls, one of which is supposed to die off, and if it doesn't, the government eliminates it; and in this book, a mysterious authority, Internal Defense, tortures and kills suspected 'dissidents', people who are against the government. So what is it that makes me think of them in the same way?I'm thinking it has to do with vagueness: the central authorities, and therefore villains, in these worlds were always very mysterious and so the histories and conflicts were very vague. We are given the bare minimum of information surrounding these aspects, which are incredibly essential to the plot, and therefore to my enjoyment. My vague-ish point here is that vagueness in fiction is generally bad, especially when that fiction happens be science-fiction of any kind, and even more so in dystopian fiction where readers are supposed to buy into a politically corrupt, futuristic world that is beautiful on the surface. It never works. Not for me, anyway. It didn't work at all in Awaken, it almost worked in What's Left of Me but in the end not quite, and it still wasn't working here. Even so, I did really enjoy this book and here's why:- Becca was a very realistic character. She had a complex and often difficult relationship with her mother; she had one very dear friend and several not-so-good friends; most of her actions and reaction were based on thorough thought and good sense, but she did make several critical mistakes; and most importantly, she evolved: her perception of her world changed constantly as she slowly but surely learned more and more of the truth.- Becca's relationship with her mother was very realistic. As mentioned above, it was complex and often difficult, and in that it was very convincing. - Becca's mother, Raleigh, was a very well fleshed out character and some of the conflicts she faced were exceptionally compelling. - The plot was both solid and full of twists. There were no outright "Oh shit!" or "OMW!" moments, rather the tension grew slowly, each twist building on the last until eventually everything exploded. Every new development made sense, and there were no inconsistencies that I could pick up.- The writing was very unique, and that put me off at the start, but I pushed on and it sucked me in fast enough. There was something very striking about it, now that I think back on it, but I can't put my finger on it. - The romance was incredibly subtle. I can just imagine Zoe Cannon saying, "Insta-love?! What the fuck is that?" So yeah, none of that here. - The ending was pretty awesome. Lastly, can I just say cover lust??? Yeah, I am not ashamed to admit that I wanted this book the moment I saw that cover! Love it!So, in summary, this is a very unique book with an awesome-sauce cover, a dark, vague-ish atmosphere, a tension-filled, slowly-building plot, incredibly subtle romance, darkly fascinating writing and a great open-ended ending. Reviewed as part of ARR program in Making Connections YA group.

Actual Rating:2.5Honestly, I'm very disappointed. I had been looking forward to reading this book because I thought that the plot sounded really interesting - and it would have been, if it weren't for the main character, who was just so, so, so, so, so annoying and dislikeable.But let's start from the very beginning.This story takes place in a dystopian society where anyone who dares to express an opinion that does not conform to society are tracked down to prevent an uprising. These people are arrested and murdered by none other than that mother of Becca, the main character.One day, Becca gets a call from her friend Heather. Heather's parents have been arrested as dissidents, and she needs Becca's help. As the story proceeds, Becca gets drawn deeper and deeper into the secrets behind their dystopian regime; along the way, a boy named Jake gets involved with Becca's story.And here is when it really started to go down. In my opinion, the first few chapters were tolerable (not interesting, but tolerable). But when Jake and Becca had more interactions, everything simply spiralled downwards - mainly because of Becca's attitude.Becca is paranoid. So paranoid and fearful of the fact that Jake was a spy, that it was the only thought on her mind. ALL. THE. TIME.FOR EXAMPLE, in Becca's mind:Jake asks about Heather - Jake is a spy for Infernal.Jake lies about his parents - Jake is trying to hide his past BECAUSE he is a spy!JAKE STANDS UP FOR HEATHER - JAKE IS STILL A SPY AND BECCA THINKS IT IS ALL AN ACT.Jake asks her out on a date - Jake is trying to get close to her for information!EVERYTHING Jake does apparently "proves" that he is a spy - and Becca's constant repetition and circular thinking gets annoying very quickly.What was even worse, was Becca's self-pitying attitude - which might have been Zoe Cannon's attempt to make her sound humble.Maybe a boy really did like her instead of Heather for once, and she had screwed up her chances with him by accusing him of being a spy [...] When most guys saw her and Heather together, they really only saw Heather."Wow, Becca, your life must be so hard. I'm so sorry.And this one - His smile snapped on like he had flipped a switch. Right, To make Becca less suspicious. She wished it didn't make sense, but it did.Unless she was just being paranoid because she didn't know to deal with the idea that a guy might actually like her.We get it, Becca. You're unlikeable - what a shocker.OKAY, OKAY, OKAY. I'm done ranting about Becca's personality.Another thing that really annoyed me about this book was Becca's interactions with Heather, which was basically the same thing over and over and over and over...Here are the steps:1. Becca finds out something and wants to talk to Heather about it.2. Heather gets angry because she doesn't want to talk.3. Becca is sad.I am so tired of reading this same situation multiple times - it just felt like the story wasn't going anywhere. Throughout the entire book, it felt like the author tried so hard to make it suspenseful so that the audience would be blown away when she revealed things, bit by bit. But everything was just too predictable."[...] I asked about all surveillance on Heather." She hesitated."And?""There is no surveillance on Heather."Not really. Points for trying, though. But sorry, we already knew that Becca was overreacting.Moving on, the relationship between Becca and Heather, as well as Becca and Jake, was simply so full of imbalances that irritated me to no end. Becca made many questionable decisions, and yet she continued to justify them, trying to be the one that was right - and surprise surprise, Jake and Heather always apologized at the end.And the next thing (at this point I'm realizing that the main thing that made this story two stars was Becca herself) was the one line that jumped out to me near the 3/4 mark of the book, as Becca thinks about Jake -"There hadn't been another kiss since she had watched Anna die two days ago.Huh. Let's read that again."There hadn't been another kiss since she had watched Anna die two days ago.Yes ma'am/sir. You've read that correctly. Becca's friend died two days ago (sidenote: it was Becca's fault), but what's on Becca's mind isn't that death (Oh no, how preposterous!), it's the kiss she had with Jake - the boy who she's just gotten to know. How adorable.Sigh.And lastly, I guess I just didn't like the way the atmosphere was portrayed. It felt like a serious dystopian, complete with betrayal and murder, but the story I got was a weak love story involving a boy with a tragic past and a girl who was simple too blind to see how ABSOLUTELY PERFECT AND BEAUTIFUL AND STRONG AND COURAGEOUS she was.The plot summary had some really neat ideas, and I'm sad to say that the book definitely did not meet my expectations, and I won't be reading the next book and finishing the series.I mean, how could I find the willpower and the time to, when I have 460 more promising books on my to-read shelf?

Review will be posted July 5th on http://a-reader-lives-a-thousand-live...Book 1 of the Internal Defense series.I received a copy of The Torturer's Daughter from the author after making a request on Goodreads, in exchange for my review.Becca is the daughter of Raleigh Dalcourt, a name that will strike fear into the hearts of dissidents nationwide. So when Becca gets a late night call from her friend, Heather, saying that she's at 117, Becca knows that it can't be good. But going to 117 to save Heather leads to a journey of discovery for Becca, where she starts to question the methods and theology of, not just Internal Defense, but of her own mother. Along the way she meets Jake, a released dissident in her class, and their friendship grows, along with Becca's differing ideology. But in a world where even saying things were better before is counted as dissidence, can she stay safe and keep her ideas hidden? Can she hide them from her own mother?Link to amazonLink to GoodreadsI was so excited to receive a copy of this book, it is one of those that I have wanted to read since I read the blurb (which was before I discovered the read and review on Goodreads). I have to say that I am just as excited now that I have finished the book, it certainly met my expectations, and about my discovery that there is to be a sequel next month!The dystopian element of this novel seemed very focused on Internal Defense, there was no real exploration of who was actually in charge, or how the regime came to be, but I found that it really didn't matter. In fact I could see the influence of George Orwell's 1984 in the way that the society was run, with children being encouraged to turn in people in positions of authority and other citizens watching people. At the same time though it didn't seem like a rip off of 1984, Cannon clearly made it her own.Internal Defense is who upholds the society, they drag people off in the middle of the night and gain confessions out of them, in some cases through torture. What I liked about the way that this was done was that you didn't actually see any torture it was only alluded to for most of the book that that was what Becca's mother did, and even when it was fully revealed there was no description of torture. In fact there were only two scenes that involved any violence at all, and they were fairly short. I thought that the way that this was handled was effective because it kept the mystery going, the reader also didn't know what was going on in 117, so when a character was in there you could really feel the tension.As a protagonist I loved Becca. You get a lot of teenage girl protagonists nowadays, particularly in this genre, and yet Becca felt different, she actually thought things through, and her decisions seemed to be backed up. Also with her ideas about society, particularly those counter society, her thoughts about Jake, and about her mother, all change and develop in a way that a normal teenage girl's would. She didn't fall instantly in love, she didn't always not get on with her mother, or get on with her mother, or her best friend for that matter, and she really struggles with her thoughts on society. The one thing I would say about the narration is that I think it would have flowed better as a first person narrative, especially as by using the limited third person, you only followed Becca, and had access to her thoughts anyway.As mentioned above, I loved the way that Becca's relationships worked, particularly the relationship with her mother that culminated in a very difficult decision, speaking as someone who was a teenage girl living with her Mum (and is now a 21 year old living with her Mum before term starts), the relationship is real, no one gets on with their Mum all the time, or hates/argues with their Mum all the time, so Becca's situation was incredibly relatable, and her decision at the climax was the decision I would have made too (I think!).Similarly the relationship with Jake seemed really real. Becca describes herself as someone that boys aren't normally interested in (again, I can relate to that!), which is similar to a lot of heroines in this genre, but unlike most of them, she doesn't fall in love straight away, or after a few awkward encounters (in fact its debatable whether Becca falls in love at all), and at the climax she reacts accordingly. So there was an undercurrent of romance in the book, but it was minuscule, and I would say if you were looking for a dystopian read without romance (which I know is hard to find!) then you're pretty safe with this one if you can cope with a tiny bit!I'd recommend this, for a society that doesn't actually exist, I found the whole book relatable, the characters, the events, everything! Its a fantastic read and I can't wait for the second installment, Necessary Sacrafices, to come out next month!

(I received a free copy of this book in exchange for an honest review)5 out of 5 starsA Fantastic Read that's compelling for both Adults and YA.ABOUT THE BOOK:"When her best friend Heather calls in the middle of the night, Becca Dalcourt assumes it's the usual drama. Wrong. Heather's parents have been arrested as dissidents - and Becca's mother, the dystopian regime's most infamous torturer, has already executed them for their crimes against the state.To stop Heather from getting herself killed trying to prove her parents' innocence, Becca hunts for proof of their guilt. She doesn't expect to find evidence that leaves her questioning everything she thought she knew about the dissidents... and about her mother.When she risks her life to save a dissident, she learns her mother isn't the only one with secrets - and the plot she uncovers will threaten the lives of the people she loves most. For Becca, it's no longer just a choice between risking execution and ignoring the regime's crimes; she has to decide whose life to save and whose to sacrifice.It's easy to be a hero when you can save the world, but what about when all you can do is choose how you live in it? THE TORTURER'S DAUGHTER is a story about ordinary life amidst the realities of living under an oppressive regime... and the extraordinary courage it takes to do what's right in a world gone wrong."MY THOUGHTS:If you like dystopian novels with a lot of suspense then you'll love this book. There isn't much in the way of backdrop, but for me this serves to bring the main protagonists into sharper relief, and to heighten the tension. I read this in one sitting, and thoroughly enjoyed it. There is one scene of execution, which is over with quickly, and otherwise only vague allusions to violence perpetrated by the Government Regime. There is no sexuality in this book, and I would have no hesitations in recommending it for YA readers. In my opinion, this books asks some good questions, as well as being a gripping read.THE STRUCTURE:The book is approximately 272 pages in length, and I read it in one sitting. It has been edited and proof read to a very high standard. The narrative is from the Point of View of the main protagonist throughout, and remains consistent. The ending is well finished, and complete, despite also allowing for a sequel.SUMMARY:A well written, well presented, gripping tale set in a dystopian society. The reader isn't fed much information on the place or time, but this (to my mind) doesn't detract at all from the story. The characters are thrown into sharper relief and the tension of the plot raised dramatically by this simple device. A bit distressing to read at times, but not overly so, and keeps the reader hooked from beginning to end. The book opens by throwing you into the deep end, and keeps you there throughout. A wholehearted 5 out of 5 stars from me. I intend to read more of Zoe Cannon's work in the future.

YA main characters are idiots.i admit though.. the book was better the second time around. stop making Becca an idiot.

This story had potential, but... The characters were flat, naive and unconvincing. The world that should have been a dystopia, felt like normal day USA except every now and then some people would disappear. The story didn't come close to live up to it's dark title. But I might still read the next book. It was quick and easy entertainment, and I'm a bit curious if there might be more to the world, though probably not.

More like 3.5 stars.*I received a copy of this from the author in exchange for an honest review.I was surprised by how much I really liked this book. It was different, original, and the plot was very suspenseful. In a society that's trying to eliminate evil for good no matter the cost, these characters must determine what's right and what's wrong. The old government is gone, replaced with Enforcers and Processors who arrest and execute people they call dissidents. One wrong move, saying one wrong thing, could land you in trouble. There's no judge, no jury. If you are labeled a dissident, your life is over. And sometimes, your confessions and execution is publicized. The saying children are not their parents doesn't matter, either. If you have any association with a dissident or even someone suspected of being a dissident, then you'll be watched just as closely. Becca has never had to think about being arrested and executed for being a dissident. And she's never had any reason to believe that the world she lives in is a lie. After a phone call from her best friend and a trip to Processing 117, her life slowly begins to unravel. Her relationship with her best friend, Heather, changes drastically, leaving Becca feeling all alone and more unlike herself than ever. Add in a few conversations with a cute boy whom she thinks is a spy and a mom who has lied to her about what she does, Becca is starting to think of herself as a dissident. She's trying to decide what's right and what's wrong, what she should do and how she should act. But one wrong move could land her in the hot seat for once. And it won't matter who her mother is, because they won't care. If you're even suspected of being a dissident, you're in trouble. Becca's mom is a torturer; she's one of the best. But what Becca never knew is that her mom has made people confess to things they didn't do and executed them for it. And she doesn't know what to think about her mom killing innocent people. It's that hesitation and uncertainty that leads her on a path of finding out the truth. But who can she tell? Her best friend joined the Monitors and would turn her in for even thinking these thoughts. So she goes to Jake, a boy who has seen up-close and personal what the Processors can do. He's a dissident, and he's the only one who can help her. No one is on their side, and they must decide if their choices are worth it.Becca was a strong heroine, one who has her world shaken to the core. She wants to be courageous and use her knowledge about what's learned for good. She wants to believe her mother, yet she can't dispute the fact that the confessions are false. That innocent people, like Heather's parents, could have been killed for something they didn't do. She's conflicted, hurt, and just trying to understand where she fits in a world she no longer believes in.I have mixed feelings about Jake, who was a potential love interest for Becca. I'm not exactly sure what's going to happen to him in the next book, or if Becca will even forgive him for what he tried to do. But out of all the characters, except for Becca, I liked him the most. The plot was intricately woven with suspense and mystery. Nothing is as it seems when it comes to this government. But I would have liked more background about this society, how they came to be and how they came to think of people as dissidents. I wanted a little more information. The Torturer's Daughter reminded me a lot of The Hunger Games. It was a dark dystopian with a government that controls its people by threat of death.

This review is also on my blog: http://allwehaveisstories.blogspot.co...(may contain spoilers)I received an e-copy of The Torturer's Daughter from the author in return for an honest review. I love dystopia so of course I loved this. After Becca's best friends parents are arrested for dissident activity she searches for evidence of their guilt but what she find turns her world upside down. Everything she thought she knew about herself and her mother -the dystopian regime's most infamous torturer - is shaken and Becca must decide who's side she's on. I thoroughly enjoyed reading this novel it was captivating from the very first page. The character development of Becca was great while still staying true to her original personality. I thought the predicament that she found herself in - torn between what she had been taught and what she had learnt about the society she lived in - was very well imagined. The two sides to her mothers personality the mother and the torturer was very intriguing and realistic and the decision Becca faced at the end of the book was a great way to draw the book to a close.Zoe Cannon's writing was consistent throughout the novel and made for a great page turner. I liked the way the book was formed from Becca's initial trip to 117 to get her friend, when she was completely in the dark as to the situation, to the way everything was wrapped up at the end leaving just enough of a cliff hanger to leave me excited for the sequel. Zoe layered all of the characters enough to give them a realistic feel and leave you guessing what their motives were. The writing around the books more heart wrenching moments was good, things happened in a well paced way and didn't leave time to dwell on things that had passed before Becca was in another situation that called your full attention. Flawed characters are always the best and Becca was definitely flawed, she was very naive in the beginning and eventually had to make decisions that would drive anyone to the edge, I'm interested to see how she recovers from these events in the next book, I imagine she would be very emotionally scared from what she went through and I look forward to seeing how Zoe writes her character.I absolutely loved The Torturer's Daughter and I can't wait to read the sequel. I recommend this book to anyone who enjoys the dystopian genre.

It's really redundant. And Becca does really, really stupid things.It was an interesting story, but it was not what it could have been. It had dark elements that were not explored well, so I'm not sure why they were brought to attention at all. The political development was really weak. It was and wasn't the focus of this book, but it had enough focus that it really should have had a lot more elaboration. Becca saw some things that should have made her hate her mother and everything she stood for. Her reaction to what she witnessed was kind of slipped off with the expectation that the reader would put two and two together with the fact that there were televised executions, so the shock factor would be minimal to Becca, without actually stating that. Regardless, televised and first hand sightings are two very different things. Especially when the person is someone who is known, and someone you feel responsible for.Becca's lack of emotional responses to everything that happened in the book really made this book empty. It left me with no connection to any of the characters and their plight. I think that Raleigh could have had a much more sinister feel to her. The Internals themselves were mere shadows of what one would expect of a villain. Political and world building could have helped in this area, but cannon barely dipped her toes into these key components to her novel.Heather was really the only character that had appropriate emotional responses. I liked that the romance was subtle in this book. I also liked that it went a completely different way to what anyone would expect. I liked that Cannon had the guts to be brave enough to go against the grain with this. I think that Cannon has a lot of potential. She just really needs to work on world building and elaboration of major influences in her books. Her pacing is good and the plot was a little shaky, but I still got where the book was going.

(Warning: Possible Spoilers)Trust noone! Zoe Cannon does a good job of making you question every character's motives, all from Becca's perspective. I really enjoyed reading the entire book in her perspective and experiencing every event as her. There were not many characters, and even the characters that were in the book were not heavily described as far as appearance or other traits, other than that Becca's friend Heather is more attractive than Becca (according to Becca, of course). This makes the whole "homogenous society" feeling of the world even more prominent. In this story, there is a ruling government "Internal" that replaced a previous regime. Holding the idea that things were better off under the old government is just about the highest crime imaginable, as Internal attempts to completely kill an idea, which is an impossible task. People will always have beliefs, and Internal cannot nip every bud to avoid a conspiracy - rather, they actually help create the very conspiracy they want to avoid by attempting to destroy this idea: executing people just for making an off-the-cuff remark or spreading a rumor, etc. - when people find out about these unwarranted deaths, of course they are going to be against the government! It was very thought provoking to read about this society that seemed doomed to fail. Overall, the book was very enjoyable and easy-to-read, although it did take a few pages to catch my interest initially. The twists and turns in the plot kept it interesting, and nearing the end I was pretty glued to the book, wondering what could possibly come next.

A phone ringing in the middle of the night begins a series of events that will cause Becca to question everything she has ever known to be true. In her society, no one is safe. Children are watching their parents and even lovers can't be trusted. Can Becca figure out where the truth lies and what consequences she can live with before it is too late?Review:This novel pleasantly surprised me. These days, when I open a dystopian novel, I just kind of figure that the story is probably just going to be an epic love triangle without modern technology or a messed up government. However, The Torturer's Daughter took me back to one of my all time favorites George Orwell's 1984. There was a wonderful atmosphere of confusion and tension that permeated the book, and the story primarily focuses on Becca's loss of innocence. Though she was occasionally whiny and teenager-y, I thought that Becca was a nicely rounded and relateable character. I really enjoyed watching everything that Becca knew to be true crumble away to reveal a completely different person.Personally, I liked the way that the book was written. I felt that the writing was straight and to the point, streamlined like the society that it was written about.Plus, isn't the cover crazy awesome? I'm really excited because I just received an ARC of the sequel Necessary Sacrifices and I can't wait to read it!My RecommendationIf you are looking for something that reminds you of a teenager living in 1984, go read it. I give it 4.5/5 - I really really liked it.

TL;DR - Great book, very solid, not a lot of how things got the way they were.If you can't stand dystopian novels without knowing every why and how, you may or may not want to give this book a shot. I like to know these things, but the vagueness added to the story. Perhaps "added" isn't the right term, it was more of a shift in focus. Less of the character in the world, more of the character.This book isn't really about fighting against an oppressive government, it's about coming to terms with conflicting thoughts, how much what you do makes you who you are, and where you draw the line between good and bad, moral and immoral.Becca is a very realistic character and I don't think I thought about slapping her even once (very rare in the YA/dystopian genres, it seems) mostly because even if I didn't agree with her, what she was thinking was exactly true to how she had developed. All of the other characters are realistic too, even her mother is fleshed out near the end of the book. Everything is very solid, and I think the aforementioned vague world helps that sense. There's no "Nuh-uh! That can't be the way it happens!", there's just the characters.Also no insta-love. Sure, she and Jake like each other, but there wasn't "Jake! Jake! I can't live without Jake! He's my sun and moon!" crap. Also rare in YA. Great job, Ms. Cannon.

An electronic copy had been provided by the author in exchange for an honest review. Becca Dalcourt believes she lives in a world where the government knows best. They've removed all the previous evils from the world, and their citizens are enjoying a new life under the safety of their wing. Or so she thinks…until her best friend Heather calls her from 117 in the middle of the night, crying as she tells Becca that Internal had arrested her parents for dissident activity. At first, she believes they'd made a mistake until she finds out they've been executed…by her own mother.This has been a whirlwind adventure that saw me on the edge of my seat, wondering what was going to happen next. I thought I was so smart, having figured the plot twists out as I moved through the chapters, but Ms Cannon just laughs at me whilst she turns the story in a completely different direction. Becca, while weak in some areas, is an extremely well-drawn out character that is both smart and believable. She has smart instincts and is loyal to a tee, even as her world tips upside down. Her weak areas can't even be considered weak in my eyes, because to even get to that predicament, she had gone through a series of events that would have torn myself apart if I had been in her shoes.117 is the processing centre in Becca's town that finds dissidents and processes them for information. And by 'processing' I really mean torturing. Torture is a topic that makes me feel nauseas, and I'm glad Cannon doesn't go into detail with it. We find out early on that Becca's mum is 117′s most infamous processor, having made the centre the best one in their new world. Her job is to process all dissidents and execute them for going against the government. At this point, you may think that this woman is a cruel abomination and she deserves hate directed towards her at all costs, but I can't seem to find any will to hate her. She believes wholeheartedly that what she's doing is beneficial to the society, and to go against it would be to throw away her own principles. This woman had lost almost everything because of her job, and because she believed what she's doing is right."Living by your principles will always be the harder path. But you have to do it anyway. You have to do what's right no matter how hard it gets, or one day you'll find out you've become somebody you can't live with.""I will not be someone who abandons my principles as soon as they become inconvenient. I will not be someone who says that certain things have to be done… as long as somebody else does them."- Raleigh Dalcourt, The Torturer's DaughterThis woman is fierce I tell you, and her unwaveringly love and trust in her daughter shows that she's not as cold-hearted as you may think. However, Becca's world is tipped upside down when she learns that potential innocents are being executed because of her mum – for most of the novel, we see her struggling with this as she comes to terms with the fact that the hands that sooth her during bad times was stained with blood.Once again, I must reiterate how strong of a character Becca is. Even after everything she's been through, she understands that her mum is right in some ways – that in order to live with yourself, you have to make hard decisions. At the end of the day, you have to be able to live with your choices. That is why the last plot twist at the end didn't shock me as much as it should have. I knew what Becca was going to do, even though it would have killed her to do it. I can't praise Cannon enough for creating a character that is so strong, and can stand on her own two feet. I can honestly say that Becca is one of my top ten favourite heroines of all time.While I loved this book a lot, I'm unable to give it 5/5 stars mainly because of the world building. While the plot and characters are superb, I kept wondering about the background to this new world and how it came about. I was waiting and waiting for Cannon to give us some history to this place that mirrored our own world but was also different in many ways. I feel like learning its history could have opened up the readers' eyes on why it was so important for everyone to believe in the government. And who is this government anyway? We keep hearing about how it's made the world better, but better how? What exactly do they do and why is it so wrong to speak against them? How did they get so much power?I really hope this can be included in the next book in the series (Necessary Sacrifices), which comes out on 15 July 2013! That is extremely soon!- - - -For more reviews, visit thoughtsbyj!

Title: The Torturer's DaughterAuthor: Zoe CannonPublisher/Year: CreateSpace Independent Publishing 12/11/13Length: 274 pagesOverviewOVERVIEWWhen her best friend Heather calls in the middle of the night, Becca assumes it's the usual drama. Wrong. Heather's parents have been arrested as dissidents - and Becca's mother, the dystopian regime's most infamous torturer, has already executed them for their crimes against the state.To stop Heather from getting herself killed trying to prove her parents' innocence, Becca hunts for proof of their guilt. She doesn't expect to find evidence that leaves her questioning everything she thought she knew about the dissidents... and about her mother.When she risks her life to save a dissident, she learns her mother isn't the only one with secrets - and the plot she uncovers will threaten the lives of the people she loves most. For Becca, it's no longer just a choice between risking execution and ignoring the regime's crimes; she has to decide whose life to save and whose to sacrifice.It's easy to be a hero when you can save the world, but what about when all you can do is choose how you live in it? THE TORTURER'S DAUGHTER is a story about ordinary teenage life amidst the realities of living under an oppressive regime... and the extraordinary courage it takes to do what's right in a world gone wrongMy ThoughtsI was in the market for a new dystopian to get into, since i'm always interested in what POV they would take things - would it be a society that's formed based on over throwing the government or was it a result of disease or war? In this case we learn that it's in response to something political, but that's about as far as we get.We are first introduced to Becca when her best friend Heather calls her to get her out of 117 which is a processing center where 'dissidents' are taken once they are arrested. Dissidents here are the ones that are against the government and must be killed or held captive until they are proven to be useful. This night is really the turning point for Becca since her life begins to change from here. While her friend Heather is released, Heather's parents are not, and it's from Becca's mother that she learns that Heather's parents were dissidents. this opens Becca's eyes to the fact that maybe all that she knows isn't the truth, and she begins to question everything. She wonders if her mom is lying to her about everything and what can be believed. While she tried to stand up for Heather in school since everyone now thinks that she's one of the opposition, Becca finds herself in the line of fire as well. It's through the help of a boy - Jake that she feels like someone is on their side. Jake has a past of his own, he used to live in their town and 'disappeared' for a few years, only to return now. Becca is quite skeptical of his presence, and wonders if he's a spy or is looking to do more harm than good, even when he seems interested in her. So, what we get here is a story that's quite YA in nature, with bits of Dystopia peppered in. What frustrates me about this story though is that we get ZERO backstory. what i mean by this is that we have no idea why society is the way that it is and what happened to make it this way. We also really only get to scratch the surface on anything. meaning relationships and the sort. It took me a little time to get into the story at first since i kept waiting for something to happen. with the opening being as exciting as it was, Becca running in the middle of the night to save her friend, we go downhill from there. I still to this moment have no idea what the dissidents actually do, if they are talking about overthrowing anything, or what exactly the deal is. If this is a series (i'm not sure if it is, although the ending implied more to come) then i think that the 2nd installment really needs to take us a step back to understand things. I also think that there needs to be a bit more character development since we get a tease of what life was like when Becca's parents were together, but i'm curious if her father will play a bigger role in the future?so...all in all, average - i'd love to get someone else's opinion on this.

The Torturer's Daughter ( 275 pages approx ) by Zoe Cannon has its listing in the YA/Dystopian category of novels and is a pleasant as well as thought-provoking read. The protagonist Rebecca (Becca) Dalcourt gets a call from her dearest friend Heather in the middle of the night who says that she is now at Processing 117. The news electrifies Becca and she , in spite of her timid nature and apathy for that particular place decides to visit Heather to respect their friendship. She then faces the cruelest reality of her life, that her mother Raleigh Dalcourt is the most infamous torturer of the regime and she herself has executed Heather's parents for being dissidents.Dissident !! the word hovers around the whole plot creating an eerie and sinister effect which is very much needed for a dystopian or apocalyptic fiction. The degraded and oppressive authority keeps on hunting for dissidents and whenever it finds the least trace of connivance, the suspects are executed ruthlessly. Becca shudders to know the fact and her love for innocent Heather makes her protective towards her. But there are much more secrets which she still has to unfold about her mother and her empire, Processing 117 ! Becca tries to hack her mother's computer and the truth which reveals before her eyes determines the future moves of her life. She tries hard to convince herself for not going against the woman who has given birth to her but fails eventually. But, still, the knot between the mother and daughter exists somewhere , someway. The battle of myriad emotions has been delineated with accurate details so that the reader can relate with the agony and dilemma of Becca.Meanwhile , Heather succumbs to the pressure of the totalitarian authority, joins the Monitor and her friendship with Becca becomes just a memory. There come Jake,whose mother and sister died because of Becca's mother...she executed them. Becca wants to help Jake so that he could save his father and himself from being arrested by the Internal and in the process Becca becomes a dissident too. But this is not the end . For once Becca comes to know that Jake's only mission is to kill her mom , she tries to face the situation in her own way. She tries to explore a solution beyond dissident, torturer .Even in the worst of times, relationship matters, love and emotions matter. She thus prepares herself to fight her own crusade in her own way.Pros : Zoe Cannon has a unique way of story telling and even the not-so-significant characters have been portrayed with minute details which had made the story all the more interesting. The character of Becca has been beautifully portrayed and a deep psychological insight to her character makes it easier for the readers to understand her. The suspense and tension created in the narration has a characteristic of its own, a sharp relief or sometimes a casual situation has been created to release the tension , and it works ! absolutely ! The subtlety of the romance is another point for which I should give the author more credit. Being an YA fiction , it was necessary. The whole narration is from the POV of Becca and is consistent till the end. Moreover, the author is absolutely successful to create a dark,arcane, tension-filled atmosphere .The mother-daughter relationship and all the related complications has been portrayed in a convincing manner making it a fabulous one-sitting read for me.Cons : Nothing has been clearly stated about the place and time of the narration. A few more details about the mentioned Processing or Government would have helped the readers to make it more credible. The first few chapters I find a bit slow-paced .The book has an awesome open-ended ending, or we may say, the end is the beginning for it. I would love to read more from Zoe Cannon and is absolutely recommendable for those who love Dystopian narratives .From my side it's **** 4/5 .

The novel was set in a dystopian novel controlled by a totalitarian government. This was evident in the rich description in the story of uniform housings with stark white walls and security cameras, enforcers guarding the area, mandatory civilization classes in school, whistle blowers, as well as executioners for violators of the laws. These depict a fearful scenario for the reader. Starting the story with the main character worrying about her best friend who was captured by the government, it successfully caught the interest of the reader. This opening piqued the curiosity of the reader and filled her mind with lots of why and how questions. The reader admits that this is one effective way of keeping an audience on hold. As the story progressed, there were more evidences on the existence of a repressive government.The characters were richly described mentally and emotionally, if not that much physically. The main character, Becca, was portrayed as a teenager living inside her safe bubble. She might be living in a dictatorial government, but the author smartly created the feeling that Becca was immune to that. One factor that made her feel protected was the fact that her mother was the regime's torturer for violators.However, something changed when her best friend, Heather, was caught by the government and Becca had to go to plead for Heather to be saved. The author increased the tension when Heather became allegedly involved in dissident activities. In an oppressive government, the reader has knowledge on how bad it would look like for someone to oppose the agency. And the author has also researched on that.The writer created a vicious world of oppression in the form of The Internal, the government in the story. It successfully, and a bit morbidly, described how a dissident must be punished when he was proven to be guilty of nonconformist activities and/or propaganda. The theme suddenly shifted to an enclosed room with a dim yellow light illuminating the plain concrete walls and bloodstains.Fortunately for the reader, the darkness didn't stop there. The author had a foresight of not creating a lull when the tension was already climbing in the story. The darkness continued when Heather's parents were executed because of treason to the government and their admission of doing so. Heather, as their daughter, was put in a difficult situation which sprouted doubts in Becca's mind about the system.The author also made a realistic conflict in the novel. The main character found herself trapped between believing her mother and everything Internal symbolizes and doubting the entire system by believing Heather and Becca's new friend, Jake. Becca was believably created to have crises in her identity, beliefs, and principles – the common situations teens find themselves in.Throughout the novel, the reader kept on guessing on Becca's actions. The entire story was gripping! It made the reader frustrated whenever she couldn't find clues for the solution of the main character's dilemma. As a result, the novel became a page-turner. The reader could not put it down.Overall, The Torturer's Daughter proved not only a dystopian, but a thrilling novel. It was a rollercoaster ride filled with paranoia, confusing choices, and doubtful principles. It became a guessing game and the reader just smiled to herself when the author outwitted her in the end. The characters and plot seem believable and it made the reader wonder on how many societies in remote areas are suffering from this kind of set-up.I give two-thumbs up and a big toe for this creation by Zoe Cannon. I only have two complains though – there wasn't enough history given about the government and how it turned out to be like that; and there wasn't any announcement for a sequel.

I'd be a dissident, what about you??I want to start off by saying I am becoming a huge fan of YA dystopian books and "The Torturer's Daughter" is amongst the list of books that has brought me to this new found love of dystopian. I loved the characters, the plot, the concept!!Becca is faced with some difficult decisions and she goes about it in such a way that, as the reader, you can't help but find yourself wondering how you would answer these questions... or at least you should. When I did, I realized I would be a dissident, ALL THE WAY!! I loved Becca's willingness to question everything- including her own mother. I am the same type of person, so I found Becca relatable. Sometimes, it can get me into trouble, just like it did Becca. I also liked that Becca wasn't willing to submit to some notion of blind allegiance. When the facts were laid at her feet she began to look at the bigger picture and see her world for what it could actually be, as opposed to what she was told to be believe. I think the way Becca handled the process of figuring out who she was and where she fit into her world, how she acknowledged her relationships were changing, as well as how she was changing as a person was very well written. The author, Zoe Cannon writes very beautifully, making every word believable-understandable. You feel the torment, the anguish, and you want to know what Becca will choose. I liked that she fought for what she believed in and followed through in her convictions- this is not always easy when faced with life and death situations. The natural inclination, in my opinion would be to follow in Heather's footsteps. This unfortunately is human instinct. Here is why The Torturers's Daughter was 4 stars and not 5. The last 25% of the book were the best for me. It began moving fast and there was the suspense I had been waiting for. The first 75%, while entertaining was a little slow, but well written. As a new found lover of YA Dystopian I was hoping for more back story about the society that Becca and her friends lived in. Other than the knowledge that it was a society run on blind allegiance to "Internal" with those who spoke out against the government being "dissidents," there wasn't any explanation about their society- what it was like, what drove them to this point... As a result, I felt like questions were left unanswered. I loved the story, but wanted more!! Finally, I think one of the things that kept turning over in my head was the fact that because I didn't have this background information on their society, the issues felt very realistic to me and not as dystopian as I would have preferred. We all make tough choices in our lives- sometimes we must choose between ourselves and those we care deeply for. And sometimes those choices drive us away from certain people in our lives. The question of values, faith, and standing by your word is something familiar to us all, especially today. So again, while I loved the story, the characters, and all the potential that was wrapped up in it... even Jake (I hoped for more here as well), it just didn't come as I so desperately had hoped. Maybe I just read too much contemporary YA, but I felt like this story wasn't over. I have no idea if there is a sequel.... BUT, I would LOVE a PREQUEL!! I highly recommend The Torturer's Daughter to anyone who enjoys YA dystopian. It was a fast, easy read, with likable characters! Thank you to the author for providing me with a copy in return for an honest review! Congratulations on your novel and I look forward to reading more of your work in the future!

*I received a free copy of this book from the author in exchange for an honest review*Becca's mother is the top state interrogator and hopes her daughter will also want to work for Internal. But when Becca's best friend Heather begs her to help prove that her parents are not enemies of the State, Becca starts to spy on her mother, suspecting her of arranging false confessions which cause innocent people to be tortured. Becca is a good character. She is honest and loyal, refusing to believe that Heather and her parents are the enemy, even when the whole school is against them. You can imagine how you would feel if your best friends parents were in this kind of trouble and you would want to help or believe it was all a mistake. Becca's snooping and her unguarded comments to her mother and friends is showing dissident traits which could see her executed if she is reported but she won't abandon her principles for an easier life, even if it is safer. I found Heather to be frustrating and a bit too changable to like but her character again is well written. When Jake comes on the scene, you are never too sure about him or his motivations which adds a bit of interest. The character that interested me the most was Becca's mother as we see different sides to her through the book that I liked. She is afraid of her daughter's behaviour and has to juggle loyalty to her with the demands of her job. She was complex and fun to read about and I think Becca's view of her mother is a bit unfair at times.The book flows nicely with no big info dumps or pointless descriptions. It is simple and effective character based storytelling which I like to see in a book. I also felt that the length of the book was just right. Adding more to it may have made the book feel too slow and having less would have resulted in missing out on the complex evolving of each character. It is good to see the author get the balance right.Plot wise, I liked the twists and turns as you are never quite sure what is going to be coming next. It gives you a real idea of what it would be like to live in this suspicious world where everyone is watching you to see that you conform to the government way of thinking. At the same time, the setting for the book is very much like the present day which lets the reader imagine that this could actually happen to them and lets them relate to the characters and their struggles. I like that the characters are flawed and make bad decisions. Overall this was a good novella/short book for YA and adult fans of dystopian books. No sexual scenes or f bombs every page.

The dystopian society is startling and frightening in its simplicity. Internal Defense rules with an iron fist to ensure no "dissidents" have an impact on the complicity of citizens. However, human nature, being what it is, has other plans.The commonly held belief is that dissidents were guilty if picked up by Internal … after all they wouldn't be arrested if they weren't, right? After stumbling across some information that causes her to think that not everything she had been taught about Internal, and dissidents, was true, the protagonist, Becca, questions herself, and the actions and beliefs of her own mother, Raleigh Dalcourt, the regime's most infamous Processor. Does the simple act of questioning make her a dissident too?Author Zoe Cannon has written a well-developed narrative on the human condition—in particular, the way we will justify anything, especially if fear is involved. We are privy to Becca's innermost thoughts as the story unfolds and her character is developed.The story arc contains some interesting plot twists that engage the reader's imagination. Cannon's use of excellent literary tools to evoke the reader's emotions and grab attention is both inspired and effective. The account of Becca's challenge is emotionally compelling—enveloping the reader in intrigue.Written with the Young Adult in mine, The Torturer's Daughter is excellent YA fare.Disclosure of Material Connection: I received a digital copy of this book free from the author. I was not required to write a positive review. The opinions I have expressed are my own. I am disclosing this in accordance with the Federal Trade Commission's 16 CFR, Part 255 : "Guides Concerning the Use of Endorsements and Testimonials in Advertising."Norm Hamilton Author ofThe Digital Eye andFrom Thine Own WellIndie Writer Book ReviewsServices for WritersWebsiteemail: Norm Hamilton

Review can also be readhere.It's hard for me to articulate my thoughts about this book. They're very mixed. Part of me thinks I liked it more than I actually did but another part of me thinks it was worse than I think it was. So it's difficult for me to really say.One thing I do know is that I was really confused for the entire first half of the novel. The author doesn't give us any background whatsoever on this new world we've been thrown into, so it's almost like stumbling around in the dark. You have to dig around and find out for yourself what it's like using a few clues. This bothered me a lot, and I found myself distracted by trying to figure out the world when I should have just focused on what I was reading.Secondly, I felt like the characters were a bit impersonal. I didn't know much about any of them, because we were so focused on the plot and the fact that Becca was a dissident there wasn't room for anything else. I wish the author had stopped stressing that fact that Becca was a dissident. The revelation seemed to take up half the book. I got to the point where I just wanted to move on.The writing wasn't anything amazing, but it definitely wasn't bad. I'd put it somewhere around mediocre, maybe average.One thing I really did like about this book was the conflict. There was a lot of it, which is good, because I've recently read quite a few books where there is little to no conflict at all. Even when one thing seemed to be solved, another thing popped up. I think this was one element that really added to the story.Another thing I enjoyed was the cliffhanger at the end. This book wasn't all that suspenseful, so when I read the cliffhanger I was pleasantly surprised. (Not that I love cliffhangers or anything, but it just created a suspense that hadn't been there during the rest of the novel.)Overall, this book isn't the greatest YA dystopian novel I've read, and I definitely had some issues with it. But there were also things I liked about it. So if you're favorite genre is young adult dystopian you're probably going to enjoy reading this, even if it's not your favorite book in the world.

I was first drawn to this book by its title. It sounded so interesting and intriguing, you could guess it would be about something gone horribly wrong; and it definitely was something off with the world they lived in. I liked this book very much because unlike your usual dystopia, when you ;know the government is oppressive and maybe sometimes people disappear, for me at least, it was the first time I encountered a book that openly discussed the issue of torture. Not only that, but the main character's own mother was the most famous and feared torturer, which raised its own issues about principles and loyalties which I found the author treated with the maturity, deepness and complexity they really have.However, my absolute favourite thing about this book was that the plot was so well devised it was totally intoxicating. I kept telling myself just finish this chapter and then go do whatever you have to do, but I just couldn't put it down, because each chapter left you in such a cliffhanger that you just had to keep reading. I mean, the mystery surrounding the story was so well crafted you couldn't really guess what was going on until the end.Nevertheless I have to point out that there was one thing that really bugged me. It was the fact that you never get to understand how and why this oppressive government became to be. You just know that it is, but you don't really get it or why they are so afraid of dissidents. I think the story was missing that. Plus, the pseudo romance in it was a bit forced and not relevant to the story.Finally, talk about tridimensional characters. One moment you could totally love them, but then they would show their true colors and you would hate them, but you couldn't actually truly hate them. Just a mixture of feelings towards them.Overall this book is excellent, it touches some deep subject matter, but it is also filled with intrigue and suspense. Excellent dystopia, I just can't wait to get my hands on the second installment.*Note: I received a free copy of this book from the author in exchange for an honest review, but my opinion was not biased in any way by this fact.

Review originally featured on Bookluvrs HavenWill you conform, or will you question?In this dystopian novel, there are watchers, Monitors and enforcers. They are the people lunching at the pizza joint you are in. They are your friends, neighbours, or maybe even the guy jogging by you on your walk to a park. The government has eyes everywhere. Should you say the wrong thing, question the government's motives, associate with others that are suspicious, you may find yourself hauled off to Processing 117 where a cold cell awaits you. You will be questioned. You will be tortured. And more often than not, you will be executed.So.... will you conform or will you be a dissident?But is your confession true, or forced from you 'for the greater good'?That is the question that derails Becca's life forever. Her world will no longer be black and white. Everything she was made to believe is now in question. And she will no longer know who trust.... not even her own mother.There isn't much that is original in this dystopian story. But this writer held me captivated in every page, with every sentence that she wrote. My day stopped in its tracks once I picked up this novel, racing frantically towards the conclusion and the answers I needed to have. To the answers that Becca needed to have. As I reached it's conclusion I could not help but think... Would I have done anything differently than what Becca did? Would I have reacted the same, trusted the same people, made the same decisions? Would have I have conformed.... or would I have questioned. And in the end, who would I choose to be become?This book was generously shared by the author through a 'Read to Review' group on Goodreads.com - Shut Up and Read. If it wasn't for this group, I may not have come across this self published jewel of a novel. My sincere congratulations to Zoe Cannon on this first novel. Highly recommended to dystopian fans. *I received a eBook copy of this book for free to review from the author/publisher; this in no way influenced my review, all opinions are 100% honest and my own.*

ARC provided in exchange of reviewThis book started rather slow for me. The beginning was too high school gossip and drama. It took me a while to get fully involved in the story. My main difficulty came from the story being told from 3rd person. Sometimes I needed to go back and re-read to be clear whether 'she'it was Becca or Heather. Gradually, though, I got used to the writing style of the author and started enjoying th story much more. Initially, I expected there to come a more detailed world building and when it did not happen I realised that this is not what is important in this story. There is not need for detailed descriptions of the world/society. Becca's thoughts and emotions are enough to present the world the characters live in. The focus in this book is on the inner turmoil and changes all the characters undergo and mostly, as the title says, the complexity of Becca being the torturer's daughter. I think that all the characters, main and supporting, are very complex and well developed. The author presented very confincingly the reality of a totalitarian society where everybody monitors and reports on the others, where you can be considered a dissident just because someone says so. I liked the complex relationships Becca has with the people around her - her mother, her best friend Heather, Jake. The book read like a 3-star rating for me up until the last quarter. The test Becca is put to and her ultimate decisions make the book stand out. I really liked the ending and could relate to what happened with all the characters, except for Jake. The fate the author chose for him still puzzles me and makes me sad. I see him fitting well into the story, yet the romantic in me wishes for a more positive development of this line of the plot. In short, I would say that this a really moving and emotional dystopian story told from an young adult point of view. Yet the issues and messages in this novel sound rather adult and contemporary (and unfortunately, realistic) to me. You can read the full review and more on Ellie Reads Fiction

Becca is woken up in the middle of the night by a call from her best friend. Heather has been arrested by Internal, her parents accused of being dissident, a danger to society. Becca's mother is one of the most influential women in Internal, and soon Becca finds herself caught between her friendship to Heather and her relationship with her mother. Both are steadily destabilizing, and it's only so long before both start to collapse. The plot of this book is good. It's not the strongest or the most developed I've read but it's good and progresses well. I really wanted to see more information about the dissident in this book. Where did they come from, where are their origins, why are they such a danger? Becca's mother touches on some of these details in her conservation to Becca but I wanted more. I hope the sequel deals more with this topic. I especially admired the effort the author put into the relationships of this book, especially that of Becca and Raleigh. There are so many books where the mother-daughter relationship fails to impact the reader as it does not seem real. Becca and Raleigh's relationship in this book is almost tangible.Jake, however. I really don't know where I stand with this character. On one hand I can understand where his actions are coming from. With everything he endured it's only natural that he could suffer from some sort of emotional instability, making his continuously changing personality and dubious actions rational. But whilst Heather is in the same boat as Jake, psychological damage obvious, I didn't find myself averse to her. I've decided I just don't like Jake, though I am sure he's a favourite of many. This is a great debut novel. I really enjoyed it. There were parts where I wanted more, and felt disappointed when nothing came forth but I'm looking forward to Necessary Sacrifices. I hope that it builds on the dissident's situation and also explores the relationship between Becca and her father as he was quite absent in this particular book.All in all, I would give this book 3.5 out of 5. Not quite a 4 but almost there.

If we were allowed, I'd give this a 3 1/2. I enjoyed Zoe Cannon's novel--it had a strong premise, and I agree with another reviewer that her writing is clean and to the point--there are no meandering tangents or unresolved plot points. It had good pacing and I read it quickly, definitely pulled along wondering "What's going to happen next?" On these levels, "The Torturer's Daughter" succeeds as a good story told well.However... I felt that this novel fell a bit short of what it could have been. My criticisms are more aspects that I felt weren't fully realized, rather than things that were outright bad or wrong. I still enjoyed the novel but I can see how it's a first novel--and I look forward to reading future works by this author that hopefully will be a bit more fleshed out.My main criticisms were:1) I wanted to know more about what the totalitarian regime they lived under was LIKE. It seemed ruled by the bureaucracy, but other than that, a bit generic. What were the founding ideologies behind it? What was the crisis that spurred the regime in the first place? Is it a theocracy? Started by a charismatic leader? One based on right-wing neoliberalism, or a new wave of communism? Whatever--I completed believed the effects of the regime, but I felt the regime itself was too vague.2) The characters were sympathetic and understandable, but I would have needed more personality, more quirks, more differentiation to feel they were real people. They felt like characters I had read in other books before. That said, I felt Becca's mother's principles were handled deftly and honestly.3) There was a LOT of Becca's interior monologue which I found distracting. I wanted to see her hesitations and conflicted-ness through key actions (and there was action, don't get me wrong), but then her motivations would be spelled out every other paragraph. More show, less tell!Overall, I would recommend this book and did enjoy it--but I felt it had more potential it didn't completely achieve.I look forward to Zoe Cannon's next book.

I received a copy of this book from the author in exchange for an honest review.Becca lives in a dystopian future, in a society ran by a totalitarian government. Those who oppose the government - or even make one off-hand anti-government statement, no matter how small - are labeled dissidents and taken in for questioning. They are almost always then executed. When Becca's best friend Heather's parents are taken in, she calls Becca for help. Becca discovers that Heather's parents confessed, and in order to stop Heather from doing or saying something to get herself arrested, she searches for proof they're guilty. She finds that, and more, and begins to question the government and her own mother, who works for the government as an interrogator and executioner. During her search for truth, she meets Josh, a mysterious boy who makes her question herself even more. The novel is fast-paced and well-written. I found a couple of grammar errors, but nothing too big or too distracting. I really like how the author developed the world, with the possibility of surveillance everywhere, from cameras, recording devices, and even fellow students. The plot was tense. I found myself really getting into it and worrying for Becca with every decision she made. Like Becca, I was questioning the motives of everyone and wondering just which version of the truth was the actual truth. The most interesting part of the novel was watching Becca decide what exactly she believed. She went from a sheltered girl who trusted her government to a slightly rebellious girl who questioned the motives of everyone around her, as well as her own. It seemed similar to today's teens, who must decide which path of life they wish to follow. The internal struggles were fascinating. I think most fans of YA Dystopian will enjoy this novel. Though it's fine as a stand-alone, I want to know more. I want a sequel!

This was quite enjoyable for the most part...a dark, gritty dystopian YA novel that was just unique enough to escape the somewhat formulaic tropes that a lot of these types of novels fall into.It was chock full of secrets, lies, betrayals, confusion, tension and a loss of innocence. Everything Becca thought she knew about her world started unravelling the moment she received a frantic phone call from her best friend. Although there was not a lot of action in the book, the hook was the moral dilemma and psychological struggles that challenged Becca as she began to question everything in her life.She was a good character...a typical angsty, whiny teenager at times and a strong, mature person at others. Her mother Raleigh was a very complex person and the relationship between her and Becca was complicated and difficult.Yay, no inst-love or love triangle! Thank you, Ms. Cannon, for not burdening us with that over-used concept! Becca thought Jake was a nice-looking boy and was excited that he seemed to take an interest in her, but there was none of that swooning, moon-eyed obsession that plagues a lot of YA novels. The unexpected twist at the end in their relationship lent a nice touch, too, even though it left a lot of questions hanging in the air.I only wish the dystopian society had been described a little more fully. Explanations as to how or why the society became what it was were quite vague and lacking. And, another thing that began to annoy me after a very short time was the constant use of the term "dissident". I think it was over-emphasized way too much, and I began to roll my eyes every time I came across it.All in all, this was a pretty good read, and I would recommend it to fans of YA dystopian novels who want something a little bit different.

Definitely an interesting read. On the plus side, the protagonist and her journey were really well done. It was refreshing to see a heroine who was strong but not in a kick-ass way, who thought a lot and had intricate relationships. I liked that.On the down-side, this novel had virtually no world-building and that just doesn't work for dystopian fiction. It was a nondescript city under a nondescript oppressive government who replaced a nondescript different one and when "dissidents" have nondescript ideas that go against the nondescript policy of said government they were taken into custody and usually killed.And yeah, that killed my enjoyment a lot -- it just didn't make sense, especially because it ends up going to the heart of the plot that the protagonist doesn't want to go against her ideas. But which ideals?That people shouldn't be locked up and killed for thinking something? But for thinking what? It just became terribly circular that way. It felt patronizing, as though teenagers wouldn't like a story with two much politics in it, so all the interesting stuff was left out. For me, it's just not dystopian fiction without sticking your neck out, and actually using the speculative world to comment on today's. That's what it is, that's why I love it so much and as a dystopian it definitely fell short.On the other hand, I really liked the twist at the end and the resolution. I also really liked the premise. So... it's a good read, but without solid world-building it just feels shallow and doesn't actually make me think about anything. It also won't stay with me, the way other dystopian novels usually do. It made me sad that such a great idea for a plot wasn't supported by all the great tools in an author's tool-belt.

The Torturer's Daughter delivers a tremendous, Orwellian dose of paranoia and that might be why I enjoyed it more than I initially expected. If I thought that dystopias have been done to death and that there's nothing new to be added to the genre, this one proved me wrong.Truth be told, Cannon doesn't really offer anything original or never-seen-before; the idea of dissidents has been explored before. The freshness of this book is in the execution. There is little plot on the outside, just enough to keep the story going. Also no world-building; we only know that the Internal agency of an unnamed country under an unnamed regime is arresting people in the middle of the night. While I enjoy a well-drawn world speckled with some political intrigue, the absence of it in The Torturer's Daughter doesn't bother me a bit because the focus of the story is the effects of the regime on an individual. Most of the thrill comes from Becca's questioning everything that she thought was 'right' or 'wrong'. She is trying to figure out how her mother and the cruel interrogator can be the same person; how the mother she loves can stand for what Becca firsthand experiences as wrong. I was glued to this book to find out what Becca's actions will be, I was rooting for Becca to do the right thing even when none of us knew what the right thing is.The Torturer's Daughter ends with a sort of cliffhanger. It opens up a ton of possibilities for a sequel, but also nicely rounds up the first book. (And I just realized that there will be a sequel this summer!) Overall, The Torture's Daughter is a great read that plays with your nerves and sets great challenges before its characters and I'll be looking out for more from this author.

I received a copy of this book in exchange for an honest review.Let me preface my review with a few statements. 1 - I generally do not read books aimed at young adult readers. 2 - This is the first novel I have read by a self-published/Indie author.Immediately upon starting this book you are confronted with the catchwords that will take you through the book. "Dissidents", "Internal", "Monitors". These were among the many characters/storylines/locales that reminded me of other books I have read. Unfortunately, many of the characters, storylines and themes came off as generic versions of their cousins. Much of the book did not strike me as original. Unfortunately for the novel, this is worst in the first quarter of the book. Had I not agreed to provide a review, I would have stopped reading long before completion. The storyline does become more interesting after this but not enough to get three stars.It may be that I am being unduly harsh on the book given the audience to which it is directed. The characters are in high school but at times feel even younger. It may be that the storytelling is age appropriate so please take my statements with a grain of salt.Having seen these themes and storylines used with much better effect, I was disappointed. A younger reader may in fact be quite happy with book. It is easy to read and the dialogue is simple. There is not excessive description and the scene change with enough regularity to keep the attention of a younger reader.Overall, best suited for younger (early high school) readers with limited appeal to adult readers.