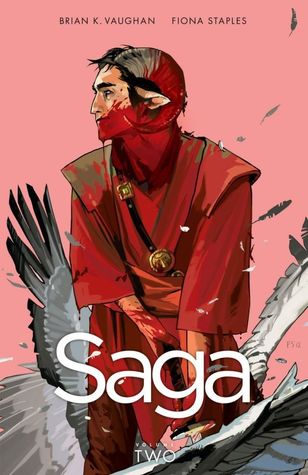 The smash-hit ongoing epic continues! Thanks to her star-crossed parents Marko and Alana, newborn baby Hazel has already survived lethal assassins, rampaging armies, and alien monstrosities, but in the cold vastness of outer space, the little girl encounters something truly frightening: her grandparents!...
| | | |
| --- | --- | --- |
| Title | : | Saga, Vol. 2 |
| Author | : | |
| Rating | : | |
| ISBN | : | 9781607066927 |
| Format Type | : | Paperback |
| Number of Pages | : | 144 Pages |
| Status | : | Available For Download |
| Last checked | : | 21 Minutes ago! |
---
Saga, Vol. 2 Reviews
Dear Mr. Vaughan, I do not know what process you go though to produce comics like these. I do not know what dark alchemy you perform, what infernal pacts you have agreed to, what terrifying drugs you must imbibe. I have no idea what arcane rituals you must perform every day, what odd odd habits of diet and exorcize you must maintain to keep your mind limber and sparking, to write things like this. I just wanted to say, whatever it is you're doing, please keep doing it. Sincerely, pat

This series continues to blow me away! Loving it!

review to come, but man, am i loving this series!okay, time for a real review! it's hard to know where to begin….this series is all told from the POV of a girl, detailing the events and adventures of her baby-years and before, including the romantic forbidden love between her parents.it was not, however, love at first sight.but it's not all lovey-dovey stuff, nor even lovey-punchy-with-a-rifle stuff. there's also … thisand how much do i love alana? not only for her dry witbut also for her enthusiasm about BOOKS! well, okay, one book in particular. but still, it's adorable, especially because of this familiar scenario where you're talking about a book you love and your excitement gets in the way of your powers of articulation and you get this reaction to your blathering:been there, my friends…but also deep in my heart is lying catnooooo! no killing lying cat! lying cat is for SNUGGLING!there was much peril for lying cat in this volume. at one point i made an audible squeak. not even embarrassed about it.i want my own lying cat. i also want these thingsanyway, an excellent second part to a series that is quickly taking over my life and my heartspace. you're welcome, book! so glad to be a part of this journey!

''Never worry what other people think of you, because no one ever thinks of you.''Give me an S! Give me an A! Give me a G! How about another A?… SAGA all the way. Oh man, I was never that into comics. Sure, there's a couple I came to enjoy, such as Ms. Marvel, Vol. 1: No Normal, Injustice: Gods Among Us, Vol. 1, The Wicked + The Divine, Vol. 1: The Faust Act… but I never felt so attached to that of a bundle of characters in a same series. I'm thinking, and thinking, and truth is that I love every one of them. Alright, so I mayhap want to dispatch of that annoying robot prince, but I'm sure he'll slaughter himself some day, and I'm pretty patient. Well, relatively patient.Did I ever mention how much I love the fact that it is the lovebirds' little Hazel who narrates the story? I can't wait to see her all grown up. This sequel is different from the first book because it doesn't only go on with the plot and how things were left but also goes back in time to moments that led to the present, and I must say that I was HOOKED.Best comic ever.

Loving this series so far! It's bizarre as hell, but AMAZING! Reminds me a lot of the old Star Wars movies.

First read April 2014Reread in September 2015Third read in January 2018I FORGOT HOW MUCH I FREAKING LOVE THESE

The art is beautiful, the story is so complex and intriguing and I just love it a lot so far.EVERYONE WAS RIGHT ABOUT THIS SERIES

Saga is just superb. Aside from the cool characters, its general weirdness and unflinching nature, it also recognises the power of words:And for me that's rather important. This particular book has caused the entire situation, pushing the characters to sue for piece in a world driven by hatred and war. The book made them fall in love with each other, and give birth to a new future that they now must fight to protect: a baby born from a union between two races that have always hated each other:So the plot is rather fantastic with so much potential, I really look forward to seeing where this all goes though I do wonder if it will lose some of its shock factor. There's been a lot of strange characters/monster so far. Can it get any weirder?Time will tell.

This comic book is an incredible adventure right from page 1.I seriously could not put this story down. It made me laugh, smile, and even tear up at one point (Barr…). I never knew what to expect from the incredible ensemble of characters and I think that made the plot that more epic.The chemistry between all of the characters is phenomenal.Izabel, Gwendolyn, and of course Alana are so damn badass.And that ending was AMAZING.Why have I waited so long to read this series?On to the next volume!This review and more can be found on my blog.

I put in requests at the library for these books. Did I take the time to look at how many holds they have on them? Nope. So I've ended up with Volumes 2 and 3 first and weeks to go before I'll get Volume 1. I still read this..because I'm a rebel like that. Plus my library sends letters out on over due books that scare me. This is a fun book. Told from the point of view of the young baby. It's well done and funny. Plus the art work is wonderful.Plus you have this guy..You know I had to go there.

If possible, this was even more wickedly delightful than its predecessor.• We're showered with some much-wanted backstory on my favourite duo:• Get introduced to a new set of badass mofos:• Feast our eyes upon more gloriously graphic art:• And of course, get a glimpse of the most adorable little bean that is young Marko:• Bonus content – Harambe makes an appearance (forgive me):

A couple of star-crossed lovers from two different species on opposing sides of an interstellar war are on the run in a wooden rocket ship with their infant daughter and her ghost babysitter as they are pursued by the forces of both sides including a royal family member who is a robot with a television for a head as well as a bounty hunter who has an oversized cat who can tell when anyone is lying. Geez, why can't any comic book creators come up with something original?Ah, but seriously…. This second volume of Brian K. Vaughan's wild story is just as good as the first. One of the things I love most about this series so far is that despite all the crazy elements, Vaughan makes everything so relatable. This may be taking place in space during a massive war that involves everything from magic to worlds dedicated solely to prostitution, but whether it's meeting the in-laws or telling us about how Alana and Marko met, there's a very human element to all the wackiness. That's what makes the whole thing so damn awesome.

These are just genius. Funny, amazing and consistently interesting world, rad af characters. I wish I'd read this earlier today so that I had time to go grab the others from the library before it closed.

Actual rating: a low 3.5 stars.Okay, so I'm not nearly as enthusiastic about this one as I was about volume 1 ← this might (or might not) be the understatement of the century. Volume 1 left me feeling like this:Yes, I am a cigarette smoking dude with a moustache and over-gelled hair in real life.This volume? It left me feeling like this:Yes, I am also a freaky-eyed sausage on paws in real life. I am so cool.But I am not completely insane yet . I didn't give this book a 3.5-star rating just because 3.5 is a pretty number. It isn't. A pretty number, I mean. Because odd numbers suck. So ugly. Ew ew ew. Oops, am I digressing again? Thought so. Too much vodka Lack of coffee and all that crap. So. Why is this volume still pretty awesome but not quite you almost made it there I could I LOVED you but I didn't:➊ The Freaking Art is a Freaking Thing of Beauty.➽ The cover is perfection:➽ And look at this:A thing of beauty, I tell you. Fiona Staples' work is seriously amazing.➋ Super creative world and characters. ➽ Me love me Lying Cat:➽ Izabel, coolest ghost babysitter ever:➽ Gorillas and stuff:➽ Mostest awesomest doctor ever:➌ Awesome female characters:➽ Alanna:➽ Gwendolyn:➽ Klara:➊ The Romeo and Juliet vibe:Please kill me somebody. Can't we just leave the freaking romance at the doorstep for once?! Sex is great but please don't ruin everything with cute, silly scenes.EW, EW, EW.➋ Little action and slow-paced, barely there plot :There are some great individual scenes here, but the storyline itself? Bleh. The whole "meet the in-laws" subplot feels like something out of a sitcom. The scenes featuring Alanna and Barr are dull as hell. The "let's get the baby sitter back" part of the plot isn't that bad, but it's still pretty meh. And it adds nothing to the story as a whole. The only subplot I actually enjoyed was the one involving The Will, Gwendolyn, Lying Cat, Sophie, etc. Too bad these guys aren't the main characters in the story.»» And the moral of this non-review is: I'll probably give volume 3 a try, but if the authors keep doing the more silly romance and family vs. less cool action and bloodshed thing, I'm done. Yes, this is a threat. Feel free to shudder now.

In the first 6 issues of Saga (which comprised volume 1 of the trade edition), Brian K. Vaughan threw in enough weird ass shit to keep me in a delightfully perpetual state of "what the hell was that?" So much so that I worried the inventiveness might eventually wear thin, begin to feel as though it's trying too hard (as I sometimes feel with China Mieville's Dial H), or simply create such a labyrinthine mythology that it's just not worth trying to puzzle it all out. The second 6 issues have definitely allayed those fears as they are as outrageous and genuine as the first story arc, losing none of the batshit craziness or heart.Hazel, the newborn daughter of Marko and Alana, continues to narrate the story of her parents from an unknown point in the future. Marko and Alana, both soldiers from two warring alien races, have a romance that reads like Romeo and Juliet on crack. On the run as fugitives from their respective races, they continue to search the universe for a safe place to live, love, and raise Hazel. But, alas, bounty hunters continue to plague them and, worst of all, the sudden appearance of ex-flames (an enraged Gwendolyn, Marko's one time fiancée) and in-laws (Marko's parents seek out their wayward child at the worst possible of times, complicating his escape with Alana).This arc provides background on several significant characters, including how Marko and Alana met, as well as the history of the relationship between The Will and The Stalk, the star-crossed (and bad ass) bounty hunters hot on their trail. For those uninitiated to Brian Vaughan's work, however, be forewarned: there will be sex scenes, giants with pendulous scrotums, and enough deviant behavior to make Sodom and Gomorrah blush with shame. However, I also appreciate the maturity with which the relationships are portrayed--they're real without being romanticized. Saga works beautifully because of this and because of the huge debt the series owes to illustrator Fiona Staples. The work of any other artist could have made Vaughan's ideas too cartoonish, too over-the-top, but Staples's work is the right mesh of quirky and realistic that roots this world in an organic quality that gives it weight and authenticity.In short, I can't praise Saga highly enough. It's a testament to what comics can achieve when writers and artists are let off the leashes of pre-conceived, "safe" concepts and allowed to chase after their most vivid, fevered imaginings. Cross posted at This Insignificant Cinder and at Shelf Inflicted

I'm gonna make this short since it's a volume 2 and you can check out most of my thoughts on my volume 1 review. All in all, I thought this was a great second installment. It's still got the comedy gold, it's beautiful in a very real sort of way, and I tore through it really needing to know what happens next. It's left me impatient to get to volume 3, so I really can't complain. If you enjoyed volume 1, this one isn't quite as great but still, you've gotta know what happens, right? WEBSITE | TWITTER | FACEBOOK | INSTAGRAM

Vol. 1 ★★★★I completely loved this. I was enthralled the whole time learning about Hazel and the events that lead up to her creation. This world is so creative and imaginative that I'm just blown away. This is one of the best graphic-novels out, and my words won't do justice as to why I would recommend this to every living soul. The main theme in this book is the blind prejudice that all these souls have grown up believing in, because it has always been forced upon them. Everyone can take something out of this lesson, especially with all the hate this election season is bringing. Hazel being the narrator was such a genius move by Brian K. Vaughan. It is so expertly done, too. One minute you feel your heart being ripped out, the next Hazel is making you laugh out loud. Hazel's voice is perfect, and watching her journey is magical.This bind-up gives us flashbacks from the past constantly. It's done very well, and helps the reader get a way better understand at what Marko and Alana have at stake and why it's so important that love wins. I'm now going to break down each chapter in this bind up. There will be SPOILERS, so please use caution in continuing if you have not read this graphic-novel or Vol. 1!CHAPTER SEVEN:We get to see Marko's past, the moon he grew up on, and how people started instilling the prejudice of wings very early in children's lives. Present day Marko is still in the tree space ship with Alana and their baby, Hazel, but the new additions are Marko's parents. Marko's mother has banished Izabel to another planet so he and his mother go after her, while Alana and Hazel stay in the ship with his father, who lets her in on a very important secret. CHAPTER EIGHT:We get to see a glimpse of Alana and Marko first meeting - he was a prisoner and she was a guard. It wasn't exactly love at first sight, but I was still very appreciative of the glimpse. We learn that Marko's father, Barr, is an armorer. Then we see Marko's ex-girlfriend, Gwendolyn, looking for The Will. CHAPTER NINE:The Will is taking The Stalk's death very hard. Gwendolyn finds him, promises to help him avenge The Stalk and helping him get back the young sex slave he was unable to save in Vol. 1. He desperately wants to kill Prince Robot IV, and agrees to start back up on his previous mission to find the half-breed baby once they rescue the young girl, who ends up having a pretty powerful ability. CHAPTER TEN:We get to see Alana and Marko's relationship developing more in the prison. He smuggles her books, and she reads them to him. After Alana is informed that Marko is being sent to a new prison where the captives never come back, she takes action into her own hands and breaks him free. From there on out, they are on the run together. Back in our time, Marko and his mother find and save Izabel. Then, Gwendolyn and The Will are able to locate Marko and Alana thanks to the young girl they rescued. Gwendolyn is probably the most unstable ex-girlfriend of all time, and shoots a missile at their tree ship.CHAPTER ELEVEN:We get to see Hazel being conceived, which was very humanizing. In present time, Marko's father sacrifices everything he has to protect the ship and his loved ones. Also, this issue kind of broke me, but my heart wasn't ready for Barr and then for the opener of the next chapter. CHAPTER TWELVE:First Barr, now this rat medic? I felt my heart just being ripped out of my chest. Then, Prince Robot IV comes to Alana's favorite author's house. Thinking she will eventually show up to save him. Little does he know, the whole gang is already there and has been waiting for him. Blog | Twitter | Tumblr | Instagram | Youtube | Twitch

I loved this one too! It continues the story of PFC Alana and the "terrorist" Markus, two people on the wrong sides of a war who dared to fall in love and have a baby.We get a flash back of how baby Hazel was conceived:We get to spend time with Markus' parents. They are really great.And Izabel, the ghostly babysitter, is back.The Will goes to a pleasure planet, and in a moment of altruism, insists on buying a child sex slave no matter the costs.Prince Robot IV is back and has gone to Quietus to find a "romance" author he thinks Alana and Markus are off to meet (since he is suspected of actually using his books to write subversive messages of pacifism and anti-war).Oh, and we finally get to meet Markus' ex-fiancé, Gwendolyn. She finagles The Will into helping her look for Markus.All in all, another fantastic volume. Tons of WTF moments, violence, sex, anything goes with this series, and I dig it.

Edit 06/14 : Reread before Volume 3 (always fucking fantastic)Mesdames et Messieurs, I'm pleased to announce that... this awesomeness of a book is my first 5-stars rating for a graphic novel! Prepare yourself for the love! ✭ Remember how I was amazed by the storyline of the first Volume? Scratch that : this one is even better. That's simple, we never seem to be able to breathe the whole time and the alternative POV bring more tension to the story, until we just can't put it down. Moreover, Hazel's narration, slightly ironic, allows us to see things differently - to produce a more complete picture of the consequences of those actions. I'm not going to lie, her comments cracked me up. Oh! And we get to learn how Marco and Alana met! How awesome is that? ✭ What can I say? I'm in love with these characters. First, Alana. Oh, this wingy could be my BBF : she's funny, brave, fierce, yet she loses her confidence sometimes (what? Create a belly button can be scary!) but never let someone belittle herself and the choices she made. As for Marko, well, is it bad if I'm a step away from adding him in my book boyfriend list? I know, I know, horns and all that stuff, but I can't help, he's all kind of adorable, naturally charming, and I found myself swooning more often than not. Yep. Swooning. If I had a couple of hours to write this review (which I don't), I'd add words and words to describe how much I enjoyed following Isabelle (best babysitter ever), The Will, his tentacles partner... But the only thing you need to know is the fact that there isn't any useless character, as they all bring something fascinating to the story.✭ Let's talk about my favorite moments, shall we? → Don't get fooled, the numbers here do not correspond to a rank or something like that : I'm fully unable to do something as accurate as a ranking, duh. 1) Let's spread the love with the meet-cute2) Feel the urge to kill this Lying cat.3) The reading scenes : yes, I'm a romantic like that.4) Of course, the belly-button. 5) Sexy Alana rocks. You know what I'm talking about.6) The crazy mouse doctor. I can't even explain clearly why I couldn't stop laughing, but well, I couldn't. Well. I have to stop here otherwise I'll tell you the entire story. I guess you just have to read it to find out.For more of my reviews, please visit:

MY BLOG: Melissa Martin's Reading ListOMG! I loved this one even better than the first, although, there is one monster that will give nightmares for some time. You will see :-DSo Marko's parents get beamed on board and they are not happy to see that he married Alana who is supposed to be an enemy of their race. And, when they get there, Marko's mom banishes our wonderful ghost friend Izabel. Soooooo.... Marko goes off through the portal to find her and his mom follows him. This leaves Alana, Marko's dad Barr and little baby Hazel. They don't hit it off at first, well Alana is being a her normal self, but then they finally bond and she finds out a secret Barr has been keeping from his family. It's sad. Meanwhile..... Marko and mummy are dealing with this....Meet balls.. er.. I mean Fard. Lol, yeah I thought it said fart when I first read it and dear Lord. I have no words.. Anyhoo..We get to meet Gwendolyn in this book. She's the one that Marko jilted, he was engaged to her. She's not happy so she gets with the bounty hunter and his cat to go looking for him after they save the little girl. You have to read the first book to know what I'm talking about. That Robot, I call TV HEAD is still looking for Alana, Marko and the baby too! All of these people want them! I like that the book goes back and tells some back stories of how Alana and Marko met. They also show some backstory of Marko as a child. The graphics are awesome once again, the story line is awesome, there is plenty of snark and crap being blown up, stabbed, gassed, shot and what not. I love these novels so far and look forward to the rest.

This series just cracks me up!

Brian K Vaughan's epic Saga continues, as does the awesomeness from the first volume!Lovers who each come from opposite sides of two warring worlds, Alana and Marko have become the symbol for a possible union between the planet Landfall and the moon of Wreath. However, since the governments of both Landfall and Wreath have no interest in making peace with each other, they have declared Alana & Marco to be a threat to their ways of life, and have each dispatched hunters to murder Alana & Marco before their story can inspire others to seek out a peaceful union as well. Not interested in being enslaved by the politics of their respective worlds, Alana & Marco continue to escape their pursuers so they can raise their daughter Hazel in peace. But now, they face threats internally as well as externally. In addition to the ruthless bounty hunter known as The Will, and the chillingly methodical soldier Prince Robot IV, Alana and Marco find themselves pursued by even more obsessed hunters...Marco's parents! Horrified that Marco has "betrayed" their people, the misguided couple have found their son and are determined to convince Marco to abandon his new family in order to honor his old one? In a universe ravaged by war, can the love between two people still survive?Since I've pretty much read almost everything Brian K Vaughan has ever written, you'd think he would have run out of ways to astonish me by now, but no, once again Mr. Vaughan (aided by the eye-popping visuals provided by artist Fiona Staples) hasmanaged to blow me away! The intrigue starts right away with the arrival of Marco's parents. The previous edition of "Saga" focused more on how the battle between their people was impacting Marco and Alana, but now Vaughan adds even more gravitas to the horrors of war by showing not only how it affects individuals, but also how it can potentially destroy families as well. Marco's mother's hostility towards Alana paint a grim picture of how even the people closest to us can have their minds poisoned by prejudiced. And not content to simply use Marco's parents to tell ONE amazing story, Marco's father opens the door to an equally compelling subplot. Even more impressive is that while tackling such heavy themes, Vaughan still manages to inject enough levity to make the material as much fun as it is moving. Just as things start to feel a little too somber, someone (often Alana) will come up with an amusing remark that instantly lightens the mood...One thing that amazed me about Saga's first volume was how the supporting characters were just as interesting as Marco & Alana, and that hasn't changed this time around. The moral quandary that bounty hunter The Will found himself in previously is explored further, but this time he finds some unexpected help from Marco's bitter ex-fiance, Gwendolyn. Gwendolyn proves to be a perfect partner for The Will, as her intelligence and craftiness only enhances The Will's terrifying physical powers. Gwendolyn's former relationship with Marco adds a personal element to the duo's quest to capture the star-crossed lovers, and with her on board, The Will's journey proves to be every bit as mesmerizing as Marco & Alana's! In addition, some much needed laughs are provided by The Will's pet, a cat who's compelled to call out anyone who tells a lie...even when it's The Will himself!But out of all these great characters, my favorite still remains Izabel, the disembodied spirit of a dead teenage girl who now acts as a kind of "spiritual babysitter" for Alana and Marko's baby, Hazel. Izabel's perkiness and attitude reminds me of another brilliant Brian K Vaughan character, Molly from Runaways, Vol. 1: Pride and Joy. Despite her rather frightening appearance and her sad history, Izabel remains a ray of sunshine in an often bleak world, with her spirit (no pun intended) and good cheer making her a ghost who's far too lovable to be scary!Now, despite my enthusiasm for everything I've talked about above, I still haven't even mention my favorite part of Volume 2! That would be a self-contained chapter where another one of Alana & Marco's pursuers, Prince Robot IV, visits an author Alana admires in hopes that the writer may hold some clue as to where his fan may have fled to. On paper, this may sound like a rather dull pit-stop, as almost the entirety of the issue is dedicated to the Prince's conversation with author D Oswald Heist. However, their conversation proves to be one of the most compelling elements in this volume. The Prince and Heist engage in a rather weighty philosophical debate that covers many topics, including the value and true meaning of art, the importance of loyalty, fatherhood, and the price of war. While the Prince had displayed less personality than most of the other characters up until now, in this issue we learn much more about what truly drives him, and that knowledge transforms him into quite possibly the most dangerous threat yet to Alana and Marco! In addition, we learn more about the author whose work may or may not be indirectly responsible for Alana's willingness to break free from her own people...This is most certainly NOT Brian K Vaughan talking about "Saga"!DAVE'S FINAL JUDGMENT - THE DEFENSE - Deep and enthralling story and world-building- Main characters and secondary characters are equally captivating- Extremely clever and often amusing dialogue- Fascinating philosophical themes are explored - Absolutely no filler or padding, Vaughan and Staples make every panel countTHE PROSECUTION - Strong language and sexually explicit situations may turn off gentler readers- Won't be nearly as satisfying unless you've read Saga, Volume 1 first THE VERDICTJust as brilliant and exciting as the first volume, this edition further cements Saga's potential to be one of the greatest graphic novel stories of all time!

Such clever, so art, very character. Don't judge me. What did you want me say? It's Saga, you already know it was good.

Buddy reading this entire series with my favorite Princess CelesteAnother short review.I find Volume 2 of Saga to be a bit better compared to volume 1. We're starting to know more about the Star-crossed main characters, their past, family, and their hunters. It's interesting to see how Marko & Alana relationship develop since they're practically Romeo & Juliet in a Space Opera setting and also the narration done by Hazel added a nice touch and depth to its storytelling. It will be awesome to see when she's finally grow up.Artwork are really well done even though I don't like how the action scenes are drawn. They're too simple and made me feel really detached from the book. The book is hilarious and strange (another bizarre & disgusting creature appear here) at the same time, some of the dialogues really made me laugh. Overall, I'll give volume 2 a solid 4 stars, I'm interested to see where the story goes from here.

Loving this series so far. It's batshit crazy but just totally great. I think if it arrived in my lap in novel form I would be in dire straits but the imagery is amazing and there's something nostalgic about it that takes me back to my comic loving days. Also love that it celebrates difference. Corking.

Star-crossed lovers Marko and Alana and their baby Hazel are still on the run in Saga, Volume 2. In this volume, we also get a chance to get to know Marko's parents and of course there is a lot of action going since Marko and Alana are still being hunted across the universe. It has actually taken me quite a long time to read this volume. I bought it last summer and I have just dragged out reading it since I knew that as soon as I read it would I want the next volume to read. And, I have been trying to be frugal so it has been sitting on a shelf for a long time. Also, quite a lot of books have come between, I have a tendency to read more on my iPad than the books I buy...How was the volume? I can honestly say that this is one of the best series I have ever read when it comes to graphic novels. The art and the story both rocks my socks. It's science fiction, with adventure and romance, strange creature and sweet moments. And, it totally surprising and absolutely nothing that children should read. I mean there are some pretty graphic images in the volume so letting this one or any of the other volumes lying around is probably a bad idea if you have curious children. There are many great moments in the volume, both funny and sad ones. And, I think it's time for me to check up volume 3...

4.5 stars God these books are so weird. But they're really, really good. Like, when I pick them up I can't put them back down! Took me forever to get a hold of this second book because of library holds and all. So I didn't remember the first book very well but this book picked up smoothly.I loved the dynamic between the in-laws and the mom. For example:The flashbacks of how Hazel's parents fell in love were probably my favorite parts, not necessarily for the romance, but for the character development. The first book just dropped us in the middle of their story so it was nice to get a little background information on them. Plus, the whole thing with the romance paperback? Hilarious.There was some really weird shit in this one, but overall it made me smile and it made me laugh. I just didn't like the end of the book, I got a little bored.PS: Love that assassin guy. Is it weird to think a comic book character is hot?

Another enjoyable read. Some things were visibly improved, but overall I felt that Volume 2 was on about the same level as the first. These comics are fun to read, but I'll probably never understand people praising them to the high heavens.Among the new characters, I really liked Barr and really disliked Gwendolyn. As for the regulars, Lying Cat is turning out to be my favourite. And even though he's awesome, that does say a bit about the others.I'll probably write a full series review when I'm done with them all, or at least most of them.

WOW HOW IS EVERYONE IN THIS SERIES SO HOT THO ???LIKEfuck me UPAnywaay I'm super getting into this now. I literally love all the characters sO MUCH Gwendolyn was a really nice new character and I feel like even though its a graphic novel and it's short it feels like it has heaps of good content. I am worried because my library only has 1-3 WHERE will I get the others from. Full review to come

Since you asked so sweetly in all your half-nakedness, Marko, I will GLADLY continue!!This volume has much more backstory than present day. We get to see how Marko grew up (and child Marko is ADORABLE) and then how he and Alana met. *snickers*And it also tells us a little bit more about WHY these two 'enemies' came to understand and eventually love each other. And also the book which started it all. The art, of course, is still fabulous. The wit, again, spot on! The fumbling through parenthood scenes, when present, are wonderful and endearing. It's a cute little collection, although not quite as wowing as the first (in my opinion). I will be acquiring the next in the series because how can I resist troublesome in-laws, spoilery freelancer mash-ups and weird planets which are actually eggs?!