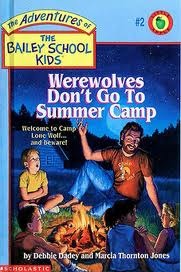 The hugely popular early chapter book series re-emerges with a new look! Brand-new eye-catching cover art brings a modern feel to this classic monster series for young readers. The new director at Camp Lone Wolf seems like a nice guy. But when the kids learn the legend of a local boy who disappeared and the wolf that prowls the campgrounds howling in the night, they startThe hugely popular early chapter book series re-emerges with a new look! Brand-new eye-catching cover art brings a modern feel to this classic monster series for young readers. The new director at Camp Lone Wolf seems like a nice guy. But when the kids learn the legend of a local boy who disappeared and the wolf that prowls the campgrounds howling in the night, they start to wonder if Camp Lone Wolf is more than just a name. Mr. Jenkins is covered in hair, eats his meat almost raw, and has an obsession with wolves. But could he really be a werewolf?...
| | | |
| --- | --- | --- |
| Title | : | Werewolves Don't Go to Summer Camp |
| Author | : | |
| Rating | : | |
| ISBN | : | 9780590440615 |
| Format Type | : | Paperback |
| Number of Pages | : | 96 Pages |
| Status | : | Available For Download |
| Last checked | : | 21 Minutes ago! |
---
Werewolves Don't Go to Summer Camp Reviews
I'm rating these based on my enjoyment of the series as a child.

Some things wear off as you get older. You outgrow them or start to think they're lame, not funny, etc. This series is not one of those things. I'm 22 and the same things that made me laugh when I was 8 still make me laugh now. All of these kids are so doggone cute too! The writing is simple and to the point, without any words that a child would be confused by, and the chapters are long enough for a child to feel encouraged by reading a big kid book, but short enough that they won't be overwhelmed. Not to mention in the paperback, the font is large, well spaced out, and easy for a child to follow. I would definitely recommend it for any child who's ready to start reading chartered books on their own, or any parent who wants to start introducing more intermediate children to their early reader at story time. It'd be especially great for summer reading between 1st and 2nd or 2nd and 3rd grade.I loved this series when I was 8. I love this series when I'm 22. I'll love this series when I'm 82.

J. asked me if I'm hooked on this series now that I've started reading it and I have to say: yes, I definitely am. No shame! It's a series that takes me back to the good ol' days of how children's books used to be; a quick story, crisp writing, great illustrations, and a fun plot.The first book Vampires Don't Wear Polka Dots was a great start to the series and Werewolves Don't Go to Summer Camp is no exception. It's fast, light, entertaining, and (I gotta say it) cute. There were a couple of things that nagged me this time around like some character inconsistencies, but as an early chapter book, I think those instances came be forgiven. Overall, a great addition to the series!FINAL VERDICT: 4 1/2 stars!

Summer read with the kiddo!I loved these books when I was little. Ashton seems to enjoys them also!

I didn't like this book because I don't like werewolves. I also didn't like this book because I didn't like the part when Mr. Jenkins turned into a werewolf.

The collection of "The adventures of the Bailey School Kids" stories are among my all-time favorite children's books. Witty, mischievous and fun, these short and silly books continue to bring giggles to the young and old. Just as I have enjoyed them as a kid, my own children also love them today. I even catch myself re-reading them (alone) from time to time. What can I say? I guess I'll always be a BSK kid at heart.

I don't remember much about this series, only that I really enjoyed them. It was a fun story for young readers and the writing style was great.

I read this book again as an adult, and while, it wasn't the story I remember, it was still a lot of fun. This is a quick, easy read about four kids that solves mysteries at their school. Great for first and second grade readers.

This book was chosen by my reading buddy around Halloween time and her and I really enjoyed it. Its about young kids in fourth or fifth grade who go on a camping outing. Their they meet a strange camp counselor who they assume is a werewolf. Howie, Melody, Liza and Eddie are at it again as they investigate to see if this Mr. Jenkins is a true werewolf. I think this book is intended for children from 8-11 years old who can understand that there is no such thing as werewolves, yet they can still find enjoyment in this funny story. The characters in these stories talk like real kids their age, I'm assuming 8, 9 or 10, and my reading buddy really enjoyed it because she likes mystery and likes the way Melody and Liza remind her of her friends. I rated this book well because I enjoyed the similar comparisons of the characters in this story and the real kids I have been working with. This story was exciting and kept the young readers interested and happy to read.

This is the second book in the The Adventures of the Bailey School Kids series. We've only read a couple of them so far, but our oldest really likes them. Since it's the second story in the series, we are starting to learn more about the main characters. We won't likely read these books in order, but it doesn't seem to matter much. It's a fun story and we are first introduced to the summer camp and Mr. Jenkins (I probably should've read Monsters Don't Scuba Dive next.) We are looking forward to reading more books in this series.

All the kids strained to read the sign as the bus pulled on to the gravel drive way. It read Welcome to Camp Lone Wolf. They met their camp director Mr.Jenkins who was as hairy as a wolf and he was wearing dog tags. Everybody rushed in, after having their dinner which was cold hamburger they went to their beds and dozed off. Melody slept on the upper bunk of the bunk bed. Melody's eyes shot open just as a bolt of lightning cut through the sky. The light was so bright, she could see the hunched figure of a hairy beast dashing into the woods and it was wearing dog tags. The only person who was wearing dog tags was Mr.Jenkins. Could Mr.Jenkins be a werewolf...?

Just finished this story tonight with my 8 y.o. son. It was interesting and engaging, and even I was wondering if the counselor is, indeed, a werewolf. I'm not sure I'd be too keen on spending a week at that summer camp. hehehe.Like in Vampires Don't wear Polkadots, you never get a straight forward answer on the supernatural, but it is implied. And I like how that helps kiddos to piece together clues, make educated guesses and arrive at their own conclusion. A fast paced, quickly read and fun tale that both my son and I enjoyed reading together.

In this adventurous book the new director at Camp Lone Wolf seems like a nice guy. But when the campers learn the legend of a local boy who disappeared and the wolf that comes around the campgrounds howling in the night.A great book that you could do a quick read aloud with the students at the end of the school year just before they leave for summer. The students would be engaged and love every minute of this mysterious book.

Another fine addition to the series that introduces the interesting Mr. Jenkins, a camp counselor at Camp Lone Wolf, is suspected of being a werewolf due to his habit of howling, abundance of hair, and enjoyment of raw meat (which he absurdly tries to feed to the campers). He never wear shoes and never joins the kids at campfires. At the end the kids devise a trap involving Wolfsbane, after which Jenkins shows up clean-shaven and well-dressed. Enjoyable.

I read these books, while the rest of the kids read The Boxcar Children and Saddle ClubIt is a surprise that I like fantasy and science fiction now? Nope.

The Bailey School Kids is a best-selling children's book series by Marcia Thornton Jones and Debbie Dadey. Its main characters are a group of four children (Eddie, Howie, Liza, Melody) who suspect some persons in the stories are popular folk lore or fairy tale characters. They are appealing because they mix a familiar story in with this group of kids. Mid-grammar school

This book is fun for students at the end of the school year or during Halloween. It the book has some words students may not be familar with, so context clues could be applied to determine what some words mean. Also this book is great for the imagination for it talks about mythical creatures and this could be a great, fun way for students to distinguish what is real and not.

Working through the books at work and saw this. I'd forgotten all about this series until today. It was one of my favourites when I was a kid. This was the only book from the series this place had, but still fun to find and read through just once more.

Who didn't have teachers that seemed like twisted monsters? Finally, some honesty in literature. Personally, I think this series is way better than that popular series about the vampire that is in love with the girl because she smells like flowers.

This was the first book I read of this series. I was in about 2nd grade and I didn't think I would like it. I read it anyway and found out that I LOVED it! I don't think I read many if any more of these books but I know I made my Mom buy me lots of them.

i think this book is awesome, because it is easy to understand and i definitely get the images of this book. i am kind of confusing...who the *********** is the real werewolves? in my opinion, there is no weresolves at all.(incorrect grammers, help out... dont complain)

Werewolves Don't Go to Summer Camp ... Or Do They?This second installment in the series finds the children filled with beginning of summer jitters that perfectly encapsulates the feeling of being away from home and at a sleep away camp for the first time.

Esta colección de libros me son muy divertidos, recuerdo haber leído la mayoría de los primeros. Los recomendaría a cualquier niño o niña... digo tiene pizca de terror pero también comedia y más que nada enseña el valor de la amistad.

A silly series that creates more questions than it answers. It's great for formulating theories as well as predictions. The class dynamics should be very familiar to those of the Magic School Bus generation.

Chris and I read this one together because some other kids recommended the Bailey School Kids. We didn't really like it because it never answered any of the questions it ask - just left everything hanging there.

This was my favorite series as a child, I owned so many of them! But not the whole series. I don't remember when I got rid of them but now I'm kind of sad I did! They were really entertaining and quick, fun reads. Oh those silly kids and their giant imaginations!

Pretty good. Read it to my 7 year old niece. Kept her attention really well! Loved the balance of humor and horror which wasn't bloody or anything like so many books are today but jump out at ya spooky horror!

I chose this book because I read it as a kid. I liked this book because it kind of left the reader wondering if the person was a werewolf or not and let them make their own conclusions. This is a good book for inquisitive readers.

This was great for my five year old boy. Just scary enough to be interesting but not scary enough that I'll be getting up with him tonight. The chapters are short; there are plenty of good new vocabulary words without having to stop all the time.