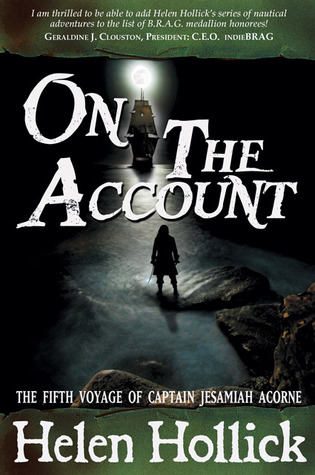 Captain Jesamiah Acorne is in trouble. Again. Arrested for treason and smuggling, believing his beloved ship, Sea Witch, lies wrecked on England's North Devon coast, his only hope of escaping the noose is for someone to quash the charges. That someone turns out to be his ex-lover - but there's a price to pay. He needs to find a boy who has disappeared, and a valuable caskeCaptain Jesamiah Acorne is in trouble. Again. Arrested for treason and smuggling, believing his beloved ship, Sea Witch, lies wrecked on England's North Devon coast, his only hope of escaping the noose is for someone to quash the charges. That someone turns out to be his ex-lover - but there's a price to pay. He needs to find a boy who has disappeared, and a valuable casket that more than one person wants to get their hands on. When people start getting murdered and Barbary pirates kidnap his wife, Tiola, his priorities rapidly change - but who is lying about what? Is returning to piracy a wise idea? Is Tiola having an affair with her mysterious Night-Walker 'friend'? Meanwhile, Tiola has her own battle to fight - keeping herself and Jesamiah alive!...
| | | |
| --- | --- | --- |
| Title | : | On The Account |
| Author | : | |
| Rating | : | |
| ISBN | : | 9781781325339 |
| Format Type | : | Paperback |
| Number of Pages | : | 372 Pages |
| Status | : | Available For Download |
| Last checked | : | 21 Minutes ago! |
---
On The Account Reviews
A Swashbuckling VoyageWhen the Sea Witch weighs anchor, you better have some Dramamine on hand, for 'it's going to be a bumpy ride.'In the beginning of On The Account, the fifth voyage of this fine three-mast square rig, its swashbuckling Captain, Jesamiah Acorne, finds himself ignobly languishing in a stinking jail, waiting to be hanged (ironically not for piracy). But preferably, he'd like to be rescued through the magic of his white-witch wife, Tiola. Alas, the lady meets up with her own troubles—and their seesaw rides begin; first separately on land while the Sea Witch lies beached, then together on the high seas.Introducing some of the actions and reactions in a fifth book of a series can be problematic for any writer. An author might be tricked into telling too much of what happened before, eager to fill the new reader in, or ignore continuity and simply shrug, 'hard cheese; should've read my previous books.' Either way, there is the risk of annoying some readers—unless it is handled by a pro, such as Helen Hollick.In On The Account, it's not too much and not too little. This is the first book I have read in the series, and I had no trouble at all in mentally catching up nor imagining what led to the Who, the What and the Why. Apart from the main protagonists, I thoroughly enjoyed Maha'dun, a mythic, intriguing and shamelessly sensuous Night-Walker. That said—and hard cheese notwithstanding—I would much like to ask permission to come aboard the previous voyages.The only trouble with this novel was my fear I might run out of it before all was told. With a print book, I can finger the thinness of pages left; with this Advance Reading Copy I was provided by the author, I kept anxiously glancing at the percentage left to read on my Kindle. But all went well. I could finish with a happy sigh. This ride was certainly a bumpy one for all involved—but what a ride it was!And I hope to meet Jesamiah on his gallant ship with that marvelously motley crew again, as there was a strong hint of a sixth book, especially when I found "going On the Account" means going back to being a pirate. It's Jesamiah's destiny; ours is to find out what happens next.In the meantime, On The Account is highly recommended to all those who love a good seafaring yarn spun by an expert storyteller.

While I have thoroughly enjoyed all four previous books in this series, 'On The Account' has become my favorite! Captain Acorne ends up in all sorts of trouble, and I have fallen for one very intriguing night walker as well. The adventure continues both on land and at sea grabbing hold of me from the first chapter to the last. The pacing is smooth and the characters well rounded - I always enjoy learning little tidbits of history expertly woven into every Helen Hollick novel, but all the more enjoyable while following the swashbuckling adventures of this handsome pirate...er...captain and his crew.

We are proud to announce that ON THE ACCOUNT by Helen Hollick is a B.R.A.G.Medallion Honoree. This tells a reader that this book is well worth their time and money!

Another compulsive read. The fifth journey of Captain Jesamiah Acorne picks up right after the cliffhanger of book #4. In this instalment, Jesamiah has numerous attempts on his life and the lives of those he loves over a mysterious box. Strange creatures called Night Walkers are at the heart of mystery, and one is an old friend of Tiola. Barbary pirates and slavery. I just loved the introduction of Maha'dun, the Night Walker. Such a colourful and rich character. I also appreciated the tension that he stirred between Tiola and Jesamiah. The climax was particularly gripping with a best-bad choice that had me furiously reading until the end. Just loved how it turned out.

In March 1719, Tiola Oldstagh treks through the English countryside at night. She's unable to contact Jesamiah and, fearing for his life, she heads for the only man who might help save her husband. But she senses someone follows – Maha'dun, a Night-Walker she once saved from death. He claims to seek the same man, but he's really tracking a bone-box, in hopes that it will lead him one step closer to The Carver, the man who crafted several such caskets from the bones of slain Night-Walkers. Legend says those who possess one become powerful, and Maha'dun follows Tiola because he thinks she knows where one is. When they reach their destination, the man they seek isn't at home.Knowing time is running out for her husband, Tiola retraces her steps only to fall and injure herself. While she suffers alone on the moor, Cara'mina, a High-born Night-Walker, blames Tiola for the death of her lover, and her need for vengeance puts her sanity in question. She wants the bone-box Tiola possesses, but all Tiola actually has is a pendant given her by a woman who once owned a box. When Cara'mina insists on learning who and where the woman is, all Tiola says is "Francesca Escudero" and "Bristol" before she passes out.Jesamiah Acorne awaits trial in Bristol. His friend, Henry Jennings, has offered to help, but Jesamiah neither wants nor needs his kind of help. His schemes and plots are what got Jesamiah into his present predicament – arrested on charges of smuggling and his ship, the Sea Witch, wrecked. Adding to his misery is the possibility that his wife no longer loves him, because ever since his incarceration, he's been unable to mentally communicate with her. Not that Tiola doesn't have every right to be angry with him. After all, he did bed another woman and get her with child, even though Francesca denies it's his. But in spite of this infidelity, he loves Tiola and needs to find her.Maha'dun finds Tiola on the moor and takes her to her home, where her friends care for her. Being a White Witch, she could heal herself, but only Jesamiah and Maha'dun know what she is. Her one wish is for Maha'dun to go to Bristol and keep Jesamiah safe.During Jesamiah's trial, Francesca sweeps into the courtroom and claims to bring a letter from King George for the judge. The contents result in the suspension of the trial, and Jesamiah and his men are released. While he is walking through town with Francesca, she's murdered by an assassin. Only Jesamiah thinks the blade was actually meant for him – a fact that is reinforced by the discovery of a dead man in Jesamiah's bed at the inn where he had taken a room.Maha'dun accompanies Jesamiah on his journey back to Tiola, but it turns out to be more perilous than either man expects. Even after their reunion, Jesamiah and Tiola aren't safe. Cara'mina still wants vengeance and doesn't care who dies in the process. Then there are those who seek the power of the bone-box and who wish to manipulate Jesamiah into doing their bidding. Instead, he and Tiola set sail for Spain to find Francesca's young son– a dying plea from Francesca because Leondro's name appears on a killing list. But even Spain proves unsafe, for Barbary pirates are raiding coastal towns in search of children to sell into slavery, and Tiola vanishes.While I like Jesamiah and Tiola, I found Maha'dun the more intriguing character in this tale. I don't necessarily like everything he does, but he often seems to steal the limelight (so to speak). His character has so much depth and grows so much. In spite of his fears, he ventures into realms that terrorize him and becomes a stronger and far more fascinating character as he does so.On the Account is the fifth voyage in the Cpt. Jesamiah Acorne series, and it is a complex tale of magic, intrigue, and true love. Hollick has included a map, a diagram of the sails and masts of a square-rigged ship, and a glossary to help readers unfamiliar with ships and sailing. Some people may find several scenes too brutal and a few physical relationships may not be to everyone's taste, but Hollick weaves a spine-tingling story that compels readers to keep turning pages rather than putting the book aside. Readers experience a whirlwind of emotions, from devastating sadness to bright hopefulness. Final farewells are said to characters who have been part of Jesamiah's life for several books. But that is part of real life, which makes even the unbelievable possible as you read On the Account.

There's something rather special about meeting again with established characters and in On The Account, the fifth book in the Sea Witch Voyages, the author has again brought to vivid life the adventures of swashbuckling Captain Jesamiah Acorn and his mysterious wife, Tiola.When authors seek to maintain stability within an established series, there is sometimes a danger that stories can become diluted, but this is not the case with this series, which seems to go from strength to strength. Maintaining continuity, whilst at the same time giving readers something new to discover is what makes reading the Sea Witch Voyages so much fun. I enjoyed this story because it's little bit more mystical than its predecessors, slightly otherworldly in places, but always at the forefront is the author's keen eye for detail and a strong sense of history both real and imagined. The fine attention to detail and the author's unique story telling ability always ensures that Captain Jesamiah and his adventures never fail to hit the mark. To say more about the minutiae of the story would be to spoil the overall effect but what I can say is that the eighteenth century comes alive in splendid detail, from Jesamiah's initial incarceration in a gloomy Bristol gaol, to the terror of kidnap, and the threat of coercion, there is never a dull moment, either for Jesamiah and his wife, or for those characters who form a major part of this rollicking good adventure.As with any series, it is of course best to start reading from book one, however, it is perfectly possible to read and enjoy On the Account as a standalone story.

It is sometimes difficult to sustain a series containing the same characters as in previous volumes and keep it exciting and fresh. Helen Hollick has managed this in her 5th adventure of the good ship Sea Witch and her charismatic - if slightly flawed - captain, Jesamiah Acorne. From the start Jesamiah finds himself in a trouble not entirely of his making and needs all the help he can get from his friends - and some who are not his friends. Although it is the latest in a long series, On The Account can be read as a stand alone as Ms Hollick skilfully weaves the bits we need to know into the story without dwelling too much in the past. She is also not averse to put in some surprises which I am sure will shock some of her regular readers. There is, perhaps, a little more of the supernatural in this tale - but what is a pirate story without that element? Highly recommended along with the preceding volumes

Filled with adventure, suspense and a little supernatural, On The Account is an epic voyage slicing through rough seas on Sea Witch and battling across unfriendly, often wet, bleak countryside. Treachery, treason and murder abound aplenty, and of course, there is love amongst the debris. So if your love swashbuckling, pirate tales, you will love this book and all the others in the series.

I would stop any book I'm reading to continue this saga.